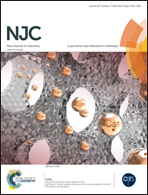 Dr Kanamori (Kyoto University, Japan) and his colleagues' work illustrates the outside cover this month.
Hierarchically porous monolithic materials are used as adsorbent, separation media and catalyst (support) due to their excellent accessibility to the pore surface and high permeability as well as easy recyclability and reusability. In this article, the authors report the synthesis of hierarchically porous zirconium phosphate (ZrP) monoliths with size-tunable co-continuous macropores from ionic precursors via a sol–gel process accompanied by phase separation followed by supercritical drying. They demonstrate the applicability of this new monolithic porous material as a green platform for the removal of toxic metal ions in aqueous solutions under continuous flow conditions, which shows promising results as a water purification device.
Synthesis of robust hierarchically porous zirconium phosphate monolith for efficient ion adsorption
Yang Zhu, Taiyo Shimizu, Takara Kitajima, Kei Morisato, Nirmalya Moitra, Nicolas Brun, Tsutomu Kiyomura, Kazuyoshi Kanamori, Kazuyuki Takeda, Hiroki Kurata, Masamoto Tafu and Kazuki Nakanishi.
New J. Chem., 2015, 39, 2444-2450. DOI: 10.1039/C4NJ01749H.
The inside cover was designed by Dr Mukherjee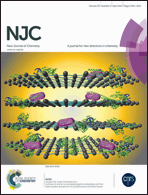 (CSIR-Central Glass & Ceramic Research Institute, India). In their article, Dr Mukherjee and co-workers report the synthesis of amine (–NH2) functionalized graphite nanosheets from microcrystalline graphite by two simple steps of chemical functionalization involving nitration followed by reduction. These nanosheets were further reacted with polyethylene glycol chains to give a water-soluble graphite nanosheet composite, which was studied as a potential drug carrier for targeted anticancer drug delivery.
Synthesis of amine functionalized graphite nanosheets and their water-soluble derivative for drug loading and controlled release
Amrita Chakravarty, Koushik Bhowmik, Goutam De and Arnab Mukherjee.
New J. Chem., 2015, 39, 2451-2458. DOI: 10.1039/C4NJ01545B.
See the content of the full issue here