This month's outside cover illustrates the work of Nan-nan Liu (Harbin University of Commerce, China) and her colleague Yi-hong Ding, in which they theoretically predict a new type of metal-metal bond passing through the ligand in inverse sandwich compounds. The molecules are roughly estimated as potentially electro-conductive by the low HOMO–LUMO gaps. According to the authors, their work could raise interest in the structural properties of inverse sandwich compounds.
Metal-metal bond passing through the arene ligand: Theoretical study on the inverse sandwich X[Sc-C8H8-Sc]nX (X = F, Cl, Br; n = 1, 2)
Nan-nan Liu and Yi-hong Ding, New J. Chem., 2015, 39, 1558-1562. DOI: 10.1039/C4NJ01832J.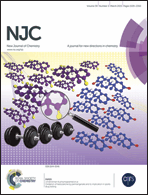 Dr Unnikrishnan Kuzhiumparambil (School of Chemistry and Forensic Science, Australia) designed the inside cover of this month's issue. In their paper, Dr Kuzhiumparambil and his co-workers explain the formation of two stable oxidation products upon reaction of potassium permanganate with testosterone. They show that these reaction products have the potential to serve as unique markers for drug testing laboratories to develop methods that can detect steroid abuse and/or chemical manipulation involving permanganate by athletes.
Oxidation of testosterone by permanganate and its implication in sports drug testing
Unnikrishnan Kuzhiumparambil, Shimpei Watanabe and Shanlin Fu, New J. Chem., 2015, 39, 1597-1602. DOI: 10.1039/C4NJ01478B.