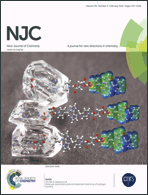 Dr Christer Aakeröy (Kansas State University, USA) designed the outside cover this month. In their article, Dr Aakeroy and his colleagues describe how a simple electrostatic view of hydrogen bonds can lead to predictable and highly site-specific molecular recognition events.
The deceptively simple act of molecular recognition is achieved by balancing a range of non-covalent forces, and the synthesis of more complex architectures requires a systematic and targeted application of hierarchical self-assembly. By addressing specific questions about how small molecules prefer to bind to each other, it may be possible to devise reproducible and reliable links between molecular structure and practical methodologies for directed non-covalent synthesis.
Molecular electrostatic potential dependent selectivity of hydrogen bonding, Christer B. Aakeröy, Tharanga K. Wijethunga and John Desper, New J. Chem., 2015, 39, 822-828. DOI: 10.1039/C4NJ01324G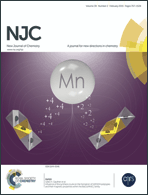 The inside cover is proposed by Dr Gilles Gauthier (Universidad Industrial de Santander, Colombia) and co-workers to illustrate their study on the influence of the Mn precursor on the formation of polytypes.
The authors studied in detail the phenomenon and also prepared a new polytype using a specific chemical route. The results show that even small changes in the mean oxidation state of the transition metals can guide a synthesis route in different ways and lead to different polytypes.
Their work contributes to the understanding of the solid state reactivity, giving new insights in the synthesis of new compounds,  destined for magnetic materials and other applications.
Influence of the synthesis route on the formation of 12R/10H-polytypes and their magnetic properties within the Ba(Ce,Mn)O3 family, Mario A. Macías, Olivier Mentré, Caroline Pirovano, Pascal Roussel, Silviu Colis and Gilles H. Gauthier, New J. Chem., 2015, 39, 829-835. DOI: 10.1039/C4NJ00798K
___________________________
This month's issue also contains a Perspective review article on the structural development of simple molecular gelators from n-alkanes and the properties of the complex gels that they can form.
Systematic modifications of alkane-based molecular gelators and the consequences to the structures and properties of their gels, Michael A. Rogers and Richard G. Weiss, New J. Chem., 2015, 39, 785-79. DOI: 10.1039/C4NJ01439A
Also read the two Comments in which Professor Perrin and Professor Halevi debate the origin of secondary deuterium isotope effects.
Comment on "The role of electrostatic induction in secondary isotope effects on acidity" by E. A. Halevi, New J. Chem., 2014, 38, 3840, Charles L. Perrin, New J. Chem., 2015, 39, 1517-1521. DOI: 10.1039/C4NJ01887G
Reply to the 'Comment on "The role of electrostatic induction in secondary isotope effects on acidity"' by C. L. Perrin, New J. Chem., 2015, 39, DOI: 10.1039/C4NJ01887G, E. Amitai Halevi, New J. Chem., 2015, 39, 1522-1524. DOI: 10.1039/C4NJ02267J