This month, our five Guest Editors Michel Camplo, Jean-Manuel Raimundo, Laurence Navailles, Mark W. Grinstaff and Philippe Barthélémy present the seven reviews and ten articles which reflect the scope of bioinspired systems in supramolecular chemistry and nanotechnology (SupraBio) today in this themed collection.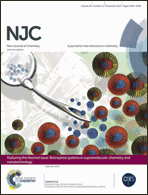 Jonathan Hill designed this month's outside cover to present the Perspective review by Dr Katsuhiko Ariga (National Institute for Materials Science, Japan) and his co-workers, and which is part of the themed issue. The authors propose an important paradigm shift in the preparation of functional materials with well-designed nanostructures, moving from a nanotechnological to a nanoarchitectonic approach.
They focus on examples involving drug delivery functions, which are promising applications of bioinspired materials research. In the review the team discusses recent developments involving assemblies of small amphiphilic molecules, polymer micelles and molecular conjugates and give examples of challenging concepts, including inorganic nanostructure design for drug delivery and mechanically controlled drug release. The authors come to the conclusion that bioinspired nanoarchitectonics can be utilized not only in drug delivery applications but also in many research fields, for which they open tremendous possibilities.
Bioinspired nanoarchitectonics as emerging drug delivery systems
Katsuhiko Ariga, Kohsaku Kawakami, Mitsuhiro Ebara, Yohei Kotsuchibashi, Qingmin Ji and Jonathan P. Hill.
New J. Chem., 2014, 38, 5149-5163. DOI: 10.1039/C4NJ00864B.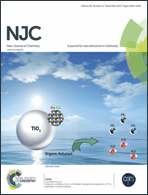 The inside cover illustrates an article written by Dr Hynd Remita (Université Paris-Sud, France) and her colleagues in which they present the synthesis of Au–Cu nanoparticles on a modified TiO2 support.
In this material the Au–Cu bimetallic nanoparticles, acting as efficient electron scavengers, enhance the photocatalytic activity under UV light. The photocatalytic properties of the modified TiO2 have also been studied for photodegradation of methyl orange. According to the authors, these materials can also have applications in catalysis.
Radiolytic synthesis of Au–Cu bimetallic nanoparticles supported on TiO2: application in photocatalysis
Zibin Hai, Nadia EL Kolli, Jiafu Chen and Hynd Remita.
New J. Chem., 2014, 38 5279-5286. DOI: 10.1039/C4NJ00883A.
We invite you to browse the complete table of contents (68 articles and reviews) of this issue to discover other interesting results.