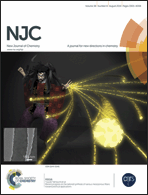 Our outside cover, designed by Prof. Yamauchi (National Institute for Materials Science, Japan) and his colleagues, presents a Focus article dedicated to mesoporous fibers.
The authors review several works on non-siliceous mesoporous fibers synthesized with both soft- and hard-templates. They also discuss the orientation control of the mesochannels inside the fibers, which is important for considering the adsorption and diffusion of molecules, and they introduce their recent works on the novel synthesis of mesoporous fibers.
Recent progress on the tailored synthesis of various mesoporous fibers toward practical applications
Norihiro Suzuki, Jian Liu and Yusuke Yamauchi.
New J. Chem., 2014, 38, 3330-3335. DOI: 10.1039/C4NJ00016A.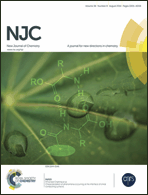 The inside cover illustrates a paper by Dr Chahma (Laurentian University, Canada) and his co-workers in which they  describe the characterization of interactions between a free amino acid and chiral conducting surfaces using cyclic voltammetry and FTIR spectroscopy.
They report that being able to control the functionalities on conducting surfaces can help tune the chemical and electrochemical properties of the modified surfaces, thereby affecting the detectability of immobilized molecules on them.
Characterization of phenomena occurring at the interface of chiral conducting surfaces
M'hamed Chahma, Christopher D. McTiernan and Sara A. Abbas.
New J. Chem., 2014, 38, 3379-3385. DOI: 10.1039/C4NJ00489B.
_______________________________________________________________________________
The second Focus article is written by Dr Nicolas Giuseppone (University of Strasbourg) and co-workers in which they present how chromatographic, spectroscopic, and microscopic techniques, as well as theoretical modelling and statistical data treatment, are instrumental in the new research area of dynamic combinatorial systems, a significant area at the interface of molecular biology and materials science. The authors illustrate the advantages of a number of experimental and theoretical methods by a non-exhaustive review of examples from the recent literature.
Experimental and theoretical methods for the analyses of dynamic combinatorial libraries
Maria Cristina Misuraca, Emilie Moulin, Yves Ruffa and Nicolas Giuseppone.
New J. Chem., 2014, 38, 3336-3349. DOI: 10.1039/C4NJ00304G.
To find out more, access the full issue