NJC was pleased to honour Alavi Karim from the University of Gothenburg (Sweden) for her outstanding poster presentation at the 1st International Symposium on Halogen Bonding (ISXB-1) that was held in Porto Cesareo (Italy) on June 18–22.
Alavi Karim is a graduate student in the Department of Chemistry and Molecular Biology where she works under the supervision of Dr. Mate Erdelyi. Her project currently focuses on Understanding Halogen Bonding in Solution.
In her award-winning poster titled "The Nature of [N–Cl–N]+ and [N–F–N]+ Halogen Bonds in Solution" she presented solution-phase NMR spectroscopy data and theoretical studies investigating the geometries and stabilities of the highly reactive, lighter haloniums in comparison to their well-studied iodonium and bromonium centered analogues. Alavi said: "We have characterized three-centre-four-electron halogen bonds, [N–X–N]+, in solution and demonstrated the iodine-, bromine- and chlorine-centred halogen bonds to be static symmetric. In line with fluorine, the [N+–F···N] system shows different behaviour in comparison to the heavier halogens. The complex is asymmetric and thus encompasses one conventional-covalent and one conventional-weak halogen bond. The fluorine- and chlorine-centred systems are highly reactive and could therefore only be stabilized in solution at low temperature. The conclusions drawn from NMR studies were supported by DFT calculations."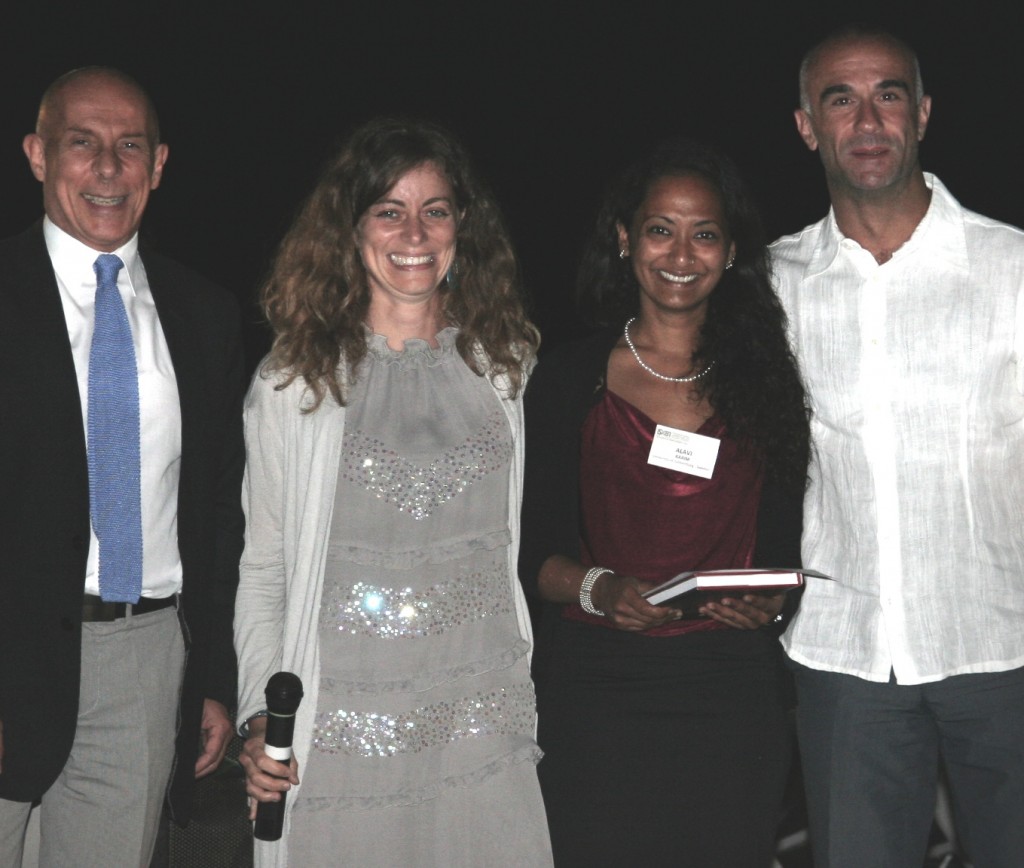 The poster prize committee and winner (from left to right): Giuseppe Resnati, Francesca Baldelli-Bombelli, Alavi Karim and Pierangelo Metrangolo.
Many congratulations to Alavi on receiving her NJC poster prize. She also received a book from the Royal Society of Chemistry and a 1-year electronic subscription to New Journal of Chemistry.
You can read more about the ISXB-1 by visiting their website.
To keep up-to-date with all the latest research, sign up for the journal's e-alerts.