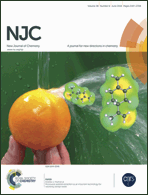 This month's front cover illustrates the article by Dr Andrew Hunt (University of York, UK) and co-workers. The authors' work demonstrated that microwave assisted extraction is an efficient green technology for the recovery of D-limonene from orange waste.
The study details the microwave assisted extraction (MAE) of D-limonene from oranges and focuses on understanding the MAE mechanism based on kinetic analysis of the process.
It was shown that microwave radiation favourably interacts with the sample during extraction, causing simultaneous cell rupture and diffusion and resulting in a greater yield. These results provide an important insight into the development of extraction processes for orange peel.
Microwave assisted extraction as an important technology for valorising orange waste
Thomas M. Attard , Baillie Watterson , Vitaliy L. Budarin , James H. Clark and Andrew J. Hunt.
New J. Chem., 2014, 38, 2278–2283. DOI: 10.1039/C4NJ00043A.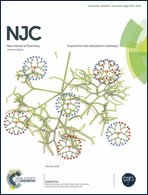 The inside cover was designed by Prof. Zofia Urbanczyk-Lipkowska (Polish Academy of Sciences). In their perspective, Zofia and her colleague Marta Sowinska wanted to provide insight into currently available synthetic methods that yield dendrimers with various morphologies, placing emphasis on the evaluation of their advantages and limitations.
The review outlines the spectacular benefits of recent applications of several novel approaches to the synthesis of dendrimers. In particular, accelerated methods and click chemistry have opened new alternative ways to obtain the high generation, defect-free dendrimeric molecules with high efficacy that was previously unreachable.
Advances in the chemistry of dendrimers
Marta Sowinska and Zofia Urbanczyk-Lipkowska.
New J. Chem., 2014, 38, 2168–2203. DOI: 10.1039/C3NJ01239E.
Access the full issue here.