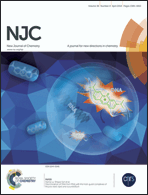 An article by Shiguo Sun (Northwest A&F University, China) and co-workers features on this month's front cover. In their work, the authors of this paper employed the host–guest chemistry between CB[8] and acridine orange to investigate its interaction with DNA/RNA.
The results highlighted that the host–guest chemistry of CB[8] provides a convenient and efficient way to solve the autofluorescence problem of the tricyclic basic dyes, and that the method can be employed to fluorescence discriminate DNA from RNA and quantitatively detect trace levels of DNA.
Discrimination of DNA from RNA with the host–guest complexes of tricyclic basic dyes and cucurbit[8]uril
Fusheng Li, Yongqian Xu, Hongjuan Li, Chaoxia Wang, Aiping Lu and Shiguo Sun.
New J. Chem., 2014, 38, 1396–1400. DOI: 10.1039/C3NJ01178J.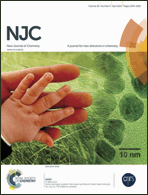 The inside cover was designed by Magda Blosi (Institute of Science and Technology for Ceramics, Italy). In their paper, Dr Blosi and her colleagues focused on developing a green synthesis process for the production of PVP-coated noble metal nanoparticles in the form of stable nanosols.
The focus on the colloidal stability together with the eco-friendly method represents a key point in view of a large-scale production. In fact, dealing with nanoparticles in form of suspensions represents an essential goal both from a safety point of view and for the subsequent process steps.
According to them, the synthesis versatility and the strong variation of the catalytic activity detected for different metals, make this process very promising for the production of bimetallic nanostructures enabling synergistic effects.
Green and easily scalable microwave synthesis of noble metal nanosols (Au, Ag, Cu, Pd) usable as catalysts
M. Blosi, S. Albonetti, S. Ortelli, A. L. Costa, L. Ortolani and M. Dondi.
New J. Chem., 2014, 38, 1401-1409. DOI: 10.1039/C3NJ00894K.
Read all 59 articles in this month's issue here.