By Cynthia Challencin, Publishing Assistant
Katalin Ősz, Associate Professor at the University of Debrecen (Hungary), focuses her work on kinetics of inorganic (photo)reactions.
In their NJC Paper, Katalin and her colleagues studied the structure-reactivity relationships in the oxidation of water-soluble quinones, which are sensitive to light and may have an important role in utilizing solar power. It was learned that otherwise nonreactive substituents can change several redox and kinetic properties and thus tune the reactivity. She also explains that NJC seemed to be an ideal venue because it offers a nice selection of papers from all the fields of chemistry for a general audience.
During her spare time, Katalin enjoys listening to classical music, hiking (mostly downhill), reading and traveling. The latest is demonstrated by the photo picturing the first author of the article, Éva Józsa (on the left), and herself in front of Ernest Hemingway's house in Key West (Florida), which they visited while attending a GRC conference on Inorganic Reaction Mechanisms.
Kinetic studies of hydroxyquinone formation from water soluble benzoquinones by Éva Józsa, Mihály Purgel, Marianna Bihari, Péter Pál Fehér, Gábor Sustyák, Balázs Várnagy, Virág Kiss, Eszter Ladó and Katalin Ősz, New J. Chem., 2014, 38, 588-597. DOI: 10.1039/C3NJ01274C (Paper)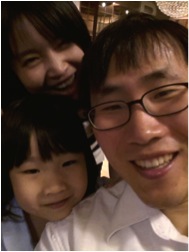 Bong-Hyun Jun, Assistant Professor at Konkuk University (Korea), works on the synthesis of nanoparticles (metal, QDs, silica) and their applications, but also on organic synthesis and surface modification.
In their NJC Letter, Bong-Hyun and co-workers report the fabrication of a dye-sensitized solar cell (DSSC) using silica-coated quantum dot-embedded silica nanoparticles (SiO2/QD/SiO2 NPs) as a light-harvesting layer. According to them, these nanoparticles, which are brighter than single QDs, enable an easier handling because of their bigger size. The fact that they can be prepared in large quantity shows that they could be applied to several fields such solar cells, protein detection and in vivo imaging.
Bong-Hyun studied at UC Berkeley in California and traveled to several places with his family. He reports: "I was impressed by the natural landscape of California. Especially, Yosemite National Park was outstanding and we had a really great time there." He now would like to have the chance to visit Europe!
Dye-sensitized solar cell with silica-coated quantum dot-embedded nanoparticles used as a light harvesting layer by Won-Yeop Rho, Jung-Woo Choi, Hea-Yeon Lee, San Kyeong, Sang Hun Lee, Heung Su Jung, Seunho Jung, Yung-Eun Sung, Yoon-Sik Leeb and Bong-Hyun Jun*, New J. Chem., 2014, 38, 910-913. DOI: 10.1039/C3NJ01345F (Letter)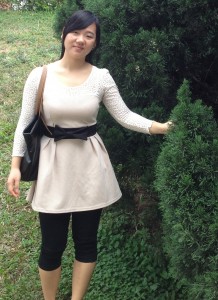 Our second author, Miss Shan Peng, Ph.D. student at the South China University of Technology, focuses her work on biomimetic/fabrication and performance characterization of superhydrophobic surfaces based on an Al substrate.
After the discovery of the hierarchical macroporous alumina template, Shan and her collegues introduced a simple template-wetting method to prepare superhydrophobic PMMA macroporous surfaces with diverse water adhesion reported in their NJC Paper.
Shan's favorite place in China is Guangzhou, one of the most developed cities. She appreciates the convenience of the public transport and the warm weather even during winter, since she does not like cold weather. Moreover, Guangzhou is famous for its variety of flowers, which has given it the name of 'Flower city'.
A facile approach for preparing biomimetic polymer macroporous structures with petal or lotus effects by Shan Peng and Wenli Deng*, New J. Chem., 2014, 38, 1011-1018. DOI: 10.1039/C3NJ01156A (Paper)
Panayiotis Andreas Koutentis (aka Pani) is Associate Professor in Organic chemistry at the University of Cyprus. His team focuses on heteroatom rich systems. There is no specific target, but rather they identify heterocyclic systems that are potentially useful but under-exploited. Students then develop their technical, theoretical and more importantly creative skills by exploring these systems. "I encourage my students to adopt an orthogonal approach to their work, except of course when they must publish!"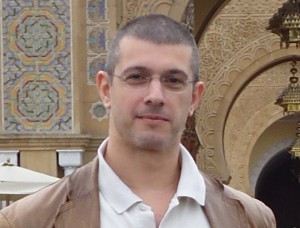 In their NJC Paper, Pani and co-workers describe the magnetic properties of a readily prepared and structurally interesting fused Blatter radical. According to them, the information provided could assist in the design of radicals with tailor-made solid-state properties, which can potentially find use in a range of organic electronic applications.
Pani would like to address special thanks to Prof. Fred Wudl as he worked for him on benzotriazinyls as a post doc. "Fred gave me his blessing to continue exploring the chemistry of the system once I started my independent career."
Pani has travelled extensively and India is by far the most exciting country he has visited. According to him, the people are friendly and hospitable, the food is excellent and there is an incredible diversity on many levels.
Effective exchange coupling in alternating-chains of a π-extended 1,2,4-benzotriazin-4-yl by Christos P. Constantinides, Andrey A. Berezin, Maria Manoli, Gregory M. Leitus, Michael Bendikov, Jeremy M. Rawson and Panayiotis A. Koutentis*, New J. Chem., 2014, 38, 949-954. DOI: 10.1039/ C3NJ01235B (Paper)