Professor Boxue Feng and his co-workers from Lanzhou University in China present a creative idea for the recycling of waste paper.
In their NJC Letter, they report a simple synthesis of water-soluble, fluorescent carbon dots (CDs) from waste paper as the carbon source via hydrothermal process at 180°C. They showed that the as-prepared CDs exhibit strong luminescence properties, good photostability, high photoluminescence quantum yield and fairly low toxicity. The green method described in this study indicates the potential applications of such prepared CDs in the field of bio-imaging.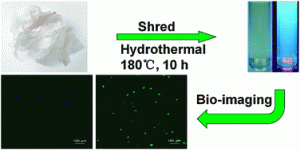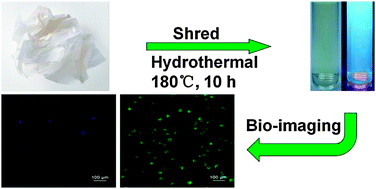 Read the article now:
Simple one-step synthesis of water-soluble fluorescent carbon dots from waste paper
By Jumeng Wei, Xin Zhang, Yingzhuo Sheng, Jianmin Shen, Peng Huang, Shikuan Guo, Jiaqi Pan, Bitao Liu and Boxue Feng ; New J. Chem., 2014, Advance Article; DOI: 10.1039/C3NJ01325A, Letter
Interested in reading further? Why not download the full article now, FREE to access for a period of 4 weeks!