NJC  is delighted to announce that NJC issue 11 is available online.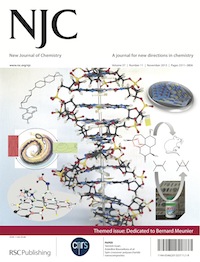 This month's issue features 27 contributions dedicated to Bernard Meunier, on the occasion of his official retirement from the CNRS (Centre National de la Recherche Scientifique) in France.
This collection includes high quality articles on a diverse range of topics, including molecular chemistry, dendrimers, nanostructures, organometallic chemistry and catalysis. The issue was guest edited by Azzedine Bousseksou and Jean-Pierre Majoral (CNRS, Toulouse, France). You can read the Editorial to find out more.
In addition to the 44 Full papers and 9 Letters covering a different area of research, issue 11 contains 1 Focus and 3 Perspectives reviews – these review articles are free to access for 4 weeks.
We hope that you will find NJC issue 11 fun and thought-provoking!