We welcome you to NJC's April issue, out now.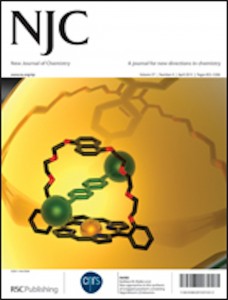 An article by Kathleen M. Mullen and her colleagues (Queensland University of Technology, Australia) features on this month's front cover. This full paper reports on the synthesis of a strapped porphyrin containing bipyridinium [2]rotaxane, using the threading and stoppering approach and the Huisgen 1,3-dipolar cycloaddition. The size of the stoppers and of the porphyrin-incorporating macrocycle have been selected using a threading approach, various dumbbells and macrocycles.
What is of particular interest is the structure(shape)-relationship that will determine the viability of exploiting noncovalent interactions to drive the formation of the assemblies, and adapting methodology (such as 'click' chemistry) to make assemblies that might not otherwise be possible. Nice work that has been clearly presented and carefully explained.
New approaches to the synthesis of strapped porphyrin containing bipyridinium [2]rotaxanes Victoria Raymont, Hannah Wilson, Michael Pfrunder, John C. McMurtrie and Kathleen M. Mullen, New J. Chem., 2013, 37, 893-900, DOI: 10.1039/C2NJ40762K.
In this issue, also check out 6 Letter articles, and 44 Full papers. Whether you are a materials scientist, physicist, medicinal chemist or biologist you are guaranteed to find articles of relevance to your specialist interests.
You can access and read the whole issue available online at: NJC 2013, Issue 4.
We hope you enjoy this issue and leave us a comment to let us know what you think!
To be alerted to each new issue of the NJC journal, sign-up for FREE Table of Contents email alert.