We are pleased to present a selection of our authors of the March issue of NJC. We thank each of them for accepting our invitation and having kindly taken some of their time to answer a few questions for us.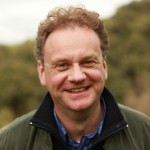 Our first author is Thomas Maschmeyer who is Professor of Chemistry at the University of Sidney (Australia) and Director of the Laboratory of Catalysis for Sustainability. His current research interests concerns all aspects of catalysis from new complexes, new materials and performance studies to process development and pilot plants – with the common theme of enhancing sustainability. Thomas and co-workers provide in his NJC paper a basis for the preparation of supported bismuth species and highlights unusual band gap shifts associated with supported cluster size variation.
Thomas chooses NJC as it is a journal that appeared ideal for the dissemination of this type of work that lies at the boundaries of a range of disciplines.
Outside of the lab, Thomas enjoys Kayaking. If he could not be a scientific researcher, he would be an engineer or a novelist.
Unprecedented blue-shift in bismuth oxide supported on mesoporous silica by Antony J. Ward, Anne M. Rich, Anthony F. Masters and Thomas Maschmeyer, New J. Chem., 2013, 37, 593-600 ; DOI: 10.1039/C2NJ40847C, paper.
Our next author is Robert B. King, regents' Professor Emeritus, University of Georgia (USA); and adjunct Professor of Chemistry, Babeş-Bolyai University (Romania);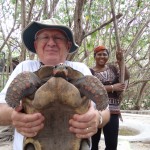 Associate Director of the Center for Computational Quantum Chemistry, South China Normal University (China) and Academic Co-Director of the Research Center for Advanced Computation, Xihua University (China). Robert's research interests are centred on computational inorganic and organometallic chemistry.
In this issue of NJC, Robert has authored the article Diverse bonding modes of the tetramethyleneethane ligand in binuclear iron carbonyl derivatives by Huidong Li, Hao Feng, Weiguo Sun, Qunchao Fan, Yaoming Xie and R. Bruce King, New J. Chem., 2013, 37, 709-716 ; DOI: 10.1039/C2NJ40644F, paper. "A paper in which density functional methods is used to explore the chemistry of tetramethyleneethane iron carbonyl derivatives related to species originally obtained from reactions of allene with iron carbonyls" explains Robert who chooses NJC for publication of this article as this work is interdisciplinary since it applies methods from quantum physics and chemistry to an area of organometallic chemistry.
In his free time, Robert loves contract Bridge (Bronze Life Master), travel to unusual places and music.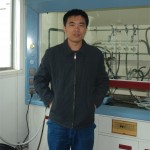 Closing this month's author selection, Dr. Feng Li is Associate Professor at the Nanjing University of Science and Technology, P. R. China.
His current research interest is organic synthesis/design, exploration and development of environmentally friendly reactions and he has authored in this NJC issue the paper Regioselective N-alkylation with alcohols for the preparation of 2-(N-alkylamino)quinazolines and 2-(N-alkylamino)pyrimidines by Feng Li, Lin Chen, Qikai Kang, Jianguang Cai and Guangjun Zhu, New J. Chem., 2013, 37, 624-631 ; DOI: 10.1039/C2NJ41021D, Paper.
This paper shows that in the presence of the [Cp*IrCl2]2/NaOH system, the direct N-alkylation of 2-aminoquinazolines and 2-aminopyrimidines with alcohols afforded the N-exosubstituted 2-(N-alkylamino)quinazolines and 2-(N-alkylamino)pyrimidines with high yields and complete regioselectivities. The protocol is highly attractive because of easily available starting materials, high atom efficiency and environmental friendliness.
"NJC is prospective and promising journal in the field of chemistry", says Feng.
Out of the lab, Feng's favorite activity is sport. If he could not be a scientist, Feng would probably be an Art designer.