We are pleased to present a selection of our authors of the October issue of NJC. We thank each of them for accepting our invitation and having kindly taken some of their time to answer a few questions for us.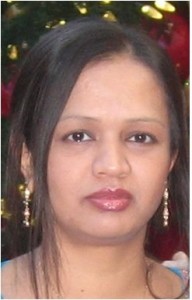 Our first author is Khaleda Banu who is a Postdoctoral Researcher at the University of California San Diego (USA). Her current research interests are mainly focused on the synthesis of metal and semiconductor nanoparticles and their application in the fields of renewable energy and microbial fuel cells. In her NJC paper, Khaleda and co-workers report on how a simple modification to the solid-matrix method could generate large-scale transparent gold nanosheets up to 50 mm in size that are attractive for the development of new biosensors.
When asked what led to the publication of this article at NJC, Khaleda responds: "The present paper is an extension of previous work published in NJC. Our intention was to publish a series of papers on the proposed electroless method for the deposition of various metal nanoparticles which can receive the attention of the interested readers".
Out of the lab, Khaleda enjoy kid's gymnastic activities, teaching students and reviewing papers.
If Khaleda could not be a scientist, she would probably like to be an actress or a professional chess player.
Synthesis of large-scale transparent gold nanosheets sandwiched between stabilizers at a solid–liquid interface
by Khaleda Banu and Takayoshi Shimura, New J. Chem., 2012, 36, 2112-2120; DOI: 10.1039/C2NJ40478H.
Our next author is Huanshun Yin, Lecturer at the Shandong Agricultural University (China). Huanshun's research interests focus on electroanalytical chemistry, electrochemical biosensors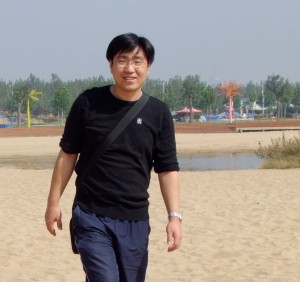 and electrochemical immunoassays.
In this issue of NJC, Huanshun has authored the article MicroRNA-21 detection based on molecular switching by amperometry by Yunlei Zhou, Zhaoyan Zhang, Zhenning Xu, Huanshun Yin and Shiyun Ai, New J. Chem., 2012, 36, 1985-1991; DOI: 10.1039/C2NJ40253J. "We developed an assay method that can discriminate complementary base mismatched microRNA sequences. More importantly, this biosensor assay reveals that microRNA-21 is highly expressed in human HeLa cells and in normal human hepatic cells. We think that such a method would be valuable in clinical diagnostics", explains Huanshun who chooses NJC for publication of this article as NJC is an RSC important international journal.
In his free time, Huanshun loves spending time doing car rides. If Huanshun was not a scientist, he would have been a teacher.
Dyanne Cruickshang is a Postdoctoral Research Fellow at the University of Cape Town (South Africa).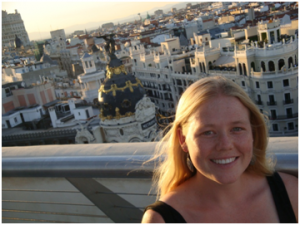 Her current research interest is the beneficiation of both agrochemicals and other active pharmaceutical ingredients using supramolecular methods such as co-crystallisation and cyclodextrin inclusion which has been her focus over the last few years.
In this NJC issue paper, Dyanne and co-authors highlight the ability of highly toxic and persistent agrochemical to form cyclodextrin inclusion complexes. The work presented focuses mainly on the single crystal structure of the complex between dimethylated b-cyclodextrin and endosulfan. It also shows how the potential of cyclodextrins in the agrochemical industry and how these molecules could be used for sequestering the insecticides from contaminated areas.
A solid-state study of the inclusion of endosulfan in native and derivatised cyclodextrins using X-ray diffraction and thermoanalytical methods by Dyanne L. Cruickshank, Susan A. Bourne and Mino R. Caira, New J. Chem., 2012, 36, 2007-2013; DOI: 10.1039/C2NJ40364A.
"NJC was chosen as it contains articles spanning a wide spectrum of interests to the scientific community. This journal seemed like an ideal way to demonstrate the relatively new area of cyclodextrin inclusion of agrochemicals and the potential applications of these complexes."
Cycling, running or swimming along the Cape Peninsula in preparation for various triathlon events are Dyanne's favourite activities. She also enjoys travelling and trying the local foods. If she could not be a scientist, Dyanne would probably be involved in some sort of teaching career.
Closing this month's author selection, Marian Davolos is Full Professor at the Sao Paulo State University (Brazil).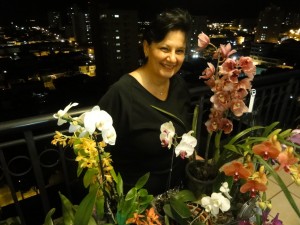 Her current research interest is investigating optical properties of inorganic materials. She has authored in this NJC issue the paper Synthesis of a functionalized europium complex and deposition of luminescent Langmuir–Blodgett (LB) films by Renata D. Adati, Felippe J. Pavinatto, Jorge H. S. K. Monteiro, Marian R. Davolos, Miguel Jafelicci and Osvaldo N. Oliveira, New J. Chem., 2012, 36, 1978-1984; DOI: 10.1039/C2NJ40199A. "An anionic europium complex stabilized by and amphiphilic cation was proven amenable to deposit as LB films with relatively intense luminescence and good stability" says Marian.
Out of the lab, Marian's favorite activity is to grow and to care for orchids and if she was not a scientist, she would be a florist or a gardener.
Marian also says that "To grow and care for plants is fantastic, especially when they give beautiful flowers and fruits. Teaching, lecturing, advising scientific work of students and guiding them to work and to make scientific research part of their life is highly satisfactory compared to growing delicate plants. Renata D. Adati, a co-author in this paper, that is part of her thesis, was one of my specials PhD students."