In this NJC paper, Marina Lezhnina et al (Muenster University of Applied Sciences-Chemical Engineering, Germany) report the synthesis and photophysical properties of Eu complexes attached to epoxy-functionalized phenantroline ligands.
The authors show how these complexes can be conveniently attached to thiol groups, in the present example gluthathione, and still retain the characteristic red emission of Eu centers.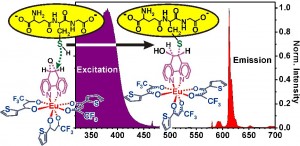 Luminescence of a Novel Eu(diketonato) – Epoxyphenanthroline Complex and Covalent Coupling to Peptides via the Epoxigroup Marina M. Lezhnina, Diana Hofmann, Beatrix Santiago-Schübel, Peter Klauth, Ulrich H. Kynast New J. Chem., 2012, Advance Article DOI: 10.1039/C2NJ40505A
Interested in reading further? Why not download the full article now, FREE to access for a period of 4 weeks!