The Editors-in-Chief of NJC welcome 3 new members to the boards. Earlier this year Len Barbour of Stellenbosch University in South Africa and Takashi Kato of the University of Tokyo were appointed to the Editorial Board, while Davit Zargarian, at the University of Montreal in Québec, Canada, has joined the International Advisory Board. Len and Takashi will be participating in the 2012 NJC Symposia: New Directions in Chemistry, which will be held in Hong Kong, Shanghai and Beijing during the last week of April.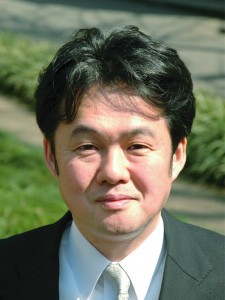 In this post, I present Takashi Kato, who is a professor in the Department of Chemistry and Biotechnology of the School of Engineering at The University of Tokyo since 2000. His research focuses on the development of self-assembled functional materials including liquid crystals, gels, polymers, stimuli-responsive materials, nanostructured ion- and electron-active materials, and bio-inspired hybrids.
Takashi received his Ph.D. degree at the University of Tokyo in 1988. After his postdoctoral research at Cornell University with Professor Jean M. J. Frechet on supramolecular liquid crystals and polymers (1988-1989), he joined The University of Tokyo. Takashi is the recipient of numerous awards from a variety of organizations around the world: the Chemical Society of Japan Award for Young Chemists (1993), the Wiley Polymer Science Award (Chemistry, 2001), the 17th IBM Japan Science Award (Chemistry, 2003), the 1st JSPS Prize (2005), the Japanese Liquid Crystal Society (2008), Molecular Science Forum Lecture Professorship of the Institute of Chemistry, Chinese Academy of Science (2009), and the Society of Polymer Science, Japan (2010).
Takashi has published about 350 papers including original papers, reviews, and chapters of books. He is an Associate Editor of Polymer Journal (2002-present) and is also on several advisory boards, including those of two RSC journals—Journal of Materials Chemistry and Chemical Science.
"It is my great pleasure to join the Editorial Board of New Journal of Chemistry. Interdisciplinary fields relating to and surrounding chemistry and interdisciplinary fields in chemistry are becoming more important both to advance science and to resolve global issues. I believe New Journal of Chemistry is an excellent forum for this mission."
With his vast experience in chemistry and in working with RSC Publishing, we are looking forward to having Takashi Kato's input into NJC's editorial policy and his help for the promotion of the journal.