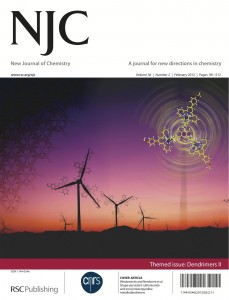 If you work with dendrimers, or are interested in learning more about these fascinating molecules, then don't miss NJC's themed issue on dendrimers that has recently been published on-line (February 2012 issue).
Guest-edited by renowned expert Jean-Pierre Majoral, this Dendrimers II issue follows our highly successful first Dendrimers issue of July 2007. In his editorial prefacing this latest issue, Jean-Pierre defines the concept of "dendrimer space" (click to read it free)
The three short and topical Focus reviews look at dendrimers as bactericides, in biomedical applications and in neurodegenerative diseases. The ten longer Perspective reviews cover the synthesis and properties of dendrimers, materials that incorporate dendrimers, and a variety of applications of dendrimers in biology and medicine.
Eighteen original research works complete the issue. I've selected five of these contributions, highly ranked by the reviewers, as Hot Papers; these will be free to access during the month of February (just click on the DOIs below).
• 5 Hot Papers

The biodistribution of maltotriose modified PPI dendrimers, with particular attention to the BBB crossing, was studied in a collaboration of Polish and German groups, revealing that the dendrimers were able to enter rat's important organs, including the brain.
"The biodistribution of maltotriose modified poly(propylene imine) (PPI) dendrimers conjugated with fluorescein—proofs of crossing blood–brain–barrier" by A. Janaszewska, B. Ziemba, K. Ciepluch, D. Appelhans, B. Voit, B. Klajnert and M. Bryszewska, New J. Chem., 2012, 36, 350-353. DOI: 10.1039/C1NJ20444K
The group of Rainer Haag (Freie Universität Berlin) looked at fluorous polyglycerol dendrons and dendrimers, which are used to form highly stable aggregates in the micro- to nanometer range in water.
"Supramolecular behavior of fluorous polyglycerol dendrons and polyglycerol dendrimers with perfluorinated shells in water" by M. Zieringer, M. Wyszogrodzka, K. Biskup and R. Haag, New J. Chem., 2012, 36, 402-406. DOI: 10.1039/C1NJ20741E
Steven Zimmerman (University of Illinois at Urbana Champaign), in collaboration with Rainer Haag, used hyperbranched polyglycerols to solubilize perylenediimide (PDI) and improve its fluorescent properties.
"Synthesis and properties of fluorescent dyes conjugated to hyperbranched polyglycerols" by A. T. Zill, K. Licha, R. Haag and S. C. Zimmerman, New J. Chem., 2012, 36, 419-427. DOI: 10.1039/C1NJ20476A
In the contribution by Bertrand Donnio and colleagues at the IPCMS in Strasbourg, two libraries of segmented block co-dendritic supermolecules bearing semi-fluorinated chains and lipophilic poly(benzyl ether)-based wedges form unusual liquid crystalline mesophases, whose supramolecular organization is tuned by the dendritic connectivity of both compartments.
"Self-assembly and liquid-crystalline supramolecular organizations of semifluorinated block co-dendritic supermolecules" by I. Bury, B. Heinrich, C. Bourgogne, G. H. Mehl, D. Guillon and B. Donnio, New J. Chem., 2012, 36, 452-468. DOI: 10.1039/C1NJ20530G
A self-assembly strategy allowing the generation of homo- and hetero-nuclear metallodendritic materials is the result of a joint effort by several American groups at the University of Akron and Louisiana State University.
"Shape-persistent, ruthenium(II)- and iron(II)-bisterpyridine metallodendrimers: synthesis, traveling-wave ion-mobility mass spectrometry, and photophysical properties" by J.-L. Wang, X. Li, C. D. Shreiner, X. Lu, C. N. Moorefield, S. R. Tummalapalli, D. A. Medvetz, M. J. Panzner, F. R. Fronczek, C. Wesdemiotis and G. R. Newkome, New J. Chem., 2012, 36, 484-491. DOI: 10.1039/C2NJ20799K
Take a look at these hot papers while they are free to all, this month only!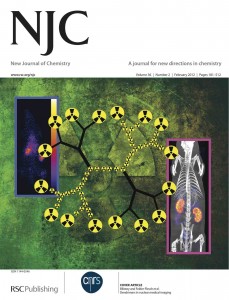 • About the Covers
The paper by J.-L. Wang et al. is also the subject of the outside cover (shown at the top) featuring windmills and dendrimers, while the inside front cover (at right) illustrates the Perspective review by French researchers in Strasbourg and Lyon on dendrimers in medical imaging .
"Dendrimers in nuclear medical imaging" by C. Ghobril, G. Lamanna, M. Kueny-Stotz, A. Garofalo, C. Billotey and D. Felder-Flesch, New J. Chem., 2012, 36, 310-323. DOI: 10.1039/C1NJ20416E (available to subscribers only)
We invite you to browse the issue here, and if you are a subscriber, to read more about dendrimers from the world's experts in the field. Enjoy!
Click to subscribe to NJC.