We invite you to visit the April issue of NJC.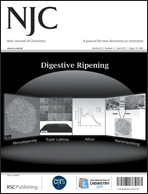 A perspective article by B. L. V. Prasad and D. S. Sidhaye (National Chemical laboratory, Pune, India) features on this month's front cover. In this review article, the digestive ripening procedure is reviewed, discussed and its utility spanning the preparation of monodispersed nanoparticles, alloy nanoparticles, superlattice structures and the most interesting nano-machining is demonstrated.
Many manifestations of digestive ripening: monodispersity, superlattices and nanomachining, Deepti S. Sidhaye and B. L. V. Prasad, New J. Chem., 2011, 35, 755-763, DOI: 10.1039/C0NJ00359J (Perspective)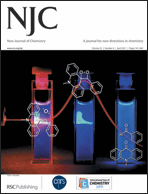 The inside cover was produced by R. Beckert and W. J. Baader and co-workers (a collaboration from teams in Germany and Brazil), presenting an uphill energy conversion process using 1, 2-dioxetanes.
Chemiluminescence-based uphill energy conversion, Luiz Francisco Monteiro Leite Ciscato, Dieter Weiss, Rainer Beckert, Erick Leite Bastos, Fernando Heering Bartoloni and Wilhelm Josef Baader, New J. Chem., 2011, 35, 773-775, DOI: 10.1039/C0NJ00843E (Letter, Hot paper)



In this issue, also check out :
• the perspective article by D. Astruc on the assembly, properties, functions and multiple applications of ferrocenyl dendrimers from small to giant sizes.
Ferrocenyl dendrimers: multi-electron redox reagents and their applications, Didier Astruc, New J. Chem., 2011, 35, 764-772, DOI: 10.1039/C0NJ00875C (Perspective)
You can access and read the whole issue 4 here.