We welcome you to NJC's February issue, out now.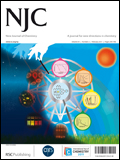 A Perspective article by Kenneth Kam-Wing Lo and coworkers (University of Hong-Kong) features on this month's front cover.  In this review article, find out on  some recent examples of luminescent iridium(III) polypyridine complexes as probes for chemical and biological molecules. The targets include proton, cations and anions, small molecules, nucleic acids, protein molecules and cellular structures.
Development of luminescent iridium(III) polypyridine complexes as chemical and biological probes, Kenneth Kam-Wing Lo, Steve Po-Yam Li and Kenneth Yin Zhang, New J. Chem., 2011, 35, 265-287, DOI: 10.1039/C0NJ00478B Perspective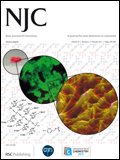 The inside front cover showcases the work of V. Haridas et al. (a collaboration from teams in Australia and India), presenting  a new class of peptide-based dendrons and dendrimers that display unique vesicle-driven organogelation.
Gelation and topochemical polymerization of peptide dendrimers, V. Haridas, Yogesh K. Sharma, Rhiannon Creasey, Srikanta Sahu, Christopher T. Gibson and Nicolas H. Voelcker, New J. Chem., 2011, 35, 303-309, DOI: 10.1039/C0NJ00544D, Paper
In this issue, also check out our very second FOCUS article, NJC's  new and exciting highlight format, this month on macroporous monoliths and their use as catalytic microreactors:
Monolithic flow microreactors improve fine chemicals synthesis, Alexander Sachse, Anne Galarneau, Bernard Coq and François Fajula, New J. Chem., 2011, 35, 259-264, DOI: 10.1039/C0NJ00965B, Focus
You can access and read the whole issue 2 of NJC here. Leave us a comment and let us know what you think!