This month the NJC Blog inaugurates a new monthly feature, which will present a few authors from the month's issue, selected by one of the NJC Editors to highlight the diversity in NJC. Below, you can meet my choice of 5 authors from the February 2011 issue, presented in reverse alphabetical order (let the Zs be first for once).
Our first profile is of Professor Xiangyang Shi, who is on the faculty of the College of Chemistry, Chemical Engineering and Biotechnology of Donghua University in Shanghai (P. R. China). "My current research interests are focused on dendrimer-based nanomedicine, and electrospun polymer nanofiber-based technology for applications in both regenerative medicine and environmental sciences."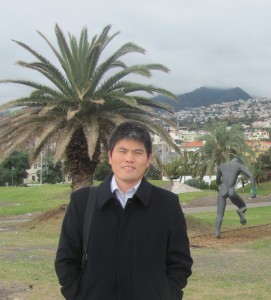 In his NJC paper, Xiangyang and his coworkers report the fabrication of uniform and water-stable electrospun polyethyleneimine/polyvinyl alcohol nanofibers by optimizing electrospinning and crosslinking conditions. The formed nanofibers display a super dye sorption capability, providing a unique material for environmental remediation applications. The interdisciplinary nature of the work, involving polymer chemistry, nanotechnology, and environmental sciences made NJC a logical choice in the authors' eyes. In addition, they appreciate that "the NJC review and publication process are pretty fast."
Outside of the lab, Xiangyang's favorite activity is travel with family. A recent trip to Beijing allowed his two young sons to discover famous scenic places such as the Great Wall, the Summer Palace, and the Forbidden City. Xiangyang comments that this trip they "started to feel a part of Chinese History".
"Fabrication and characterization of water-stable electrospun polyethyleneimine/polyvinyl alcohol nanofibers with super dye sorption capability" by Xu Fang, Shili Xiao, Mingwu Shen, Rui Guo, Shanyuan Wang and Xiangyang Shi, New J. Chem., 2011, 35, 360-368; DOI: 10.1039/C0NJ00764A
Alejandro Pérez-Rodríguez is Full Professor and Head of Laboratory at the IREC Catalonia Institute for Energy Research in Barcelona, Spain. He is currently working on the development of materials and processes for advanced inorganic thin film photovoltaic technologies. His group's contribution to this month's issue describes the development of Raman scattering techniques for quality control and process monitoring in chalcogenide photovoltaic technologies. This is applied as an in situ tool for monitoring the electrochemical synthesis of chalcopyrite absorbers under real time conditions. This "application of chemistry to a real world problem" made the work particularly suitable for NJC.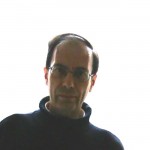 Outside the lab, Alejandro enjoys reading and swimming. "My favourite writers are classical English romantics (Jane Austen, Charlotte Bronte, Mary Shelley, …) and crime novels from Conan Doyle and Georges Simenon. In Spanish, I like very much the works from South American authors as Gabriel Garcia Marquez and Isabel Allende." Currently Alejandro is reading The Bunderbrooks by Thomas Mann.
"Process monitoring of chalcopyrite photovoltaic technologies by Raman spectroscopy: an application to low cost electrodeposition based processes" by Victor Izquierdo-Roca, Xavier Fontané, Edgardo Saucedo, Jesus Salvador Jaime-Ferrer, Jacobo Álvarez-García, Alejandro Pérez-Rodríguez, Veronica Bermudez and Joan Ramon Morante, New J. Chem., 2011, 35, 453-460; DOI: 10.1039/C0NJ00794C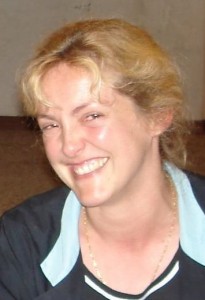 The next author is Christine Paul-Roth, Associate Professor at the National Institute of Applied Sciences (INSA) in Rennes, France. Her paper is the fruit of a collaboration between J. A. G. Williams, working in Durham University, on highly luminescent platinum complexes, V. Fattori from Bologna University, a well-known specialist in the elaboration of OLEDs, and herself for the syntheses of the complexes. More generally, her research centres around the design and elaboration of multifunctional porphyrins.
"Together we have chosen NJC to present this work because of the very large diversity and the high quality of the articles published in the journal. Also, the fact that it corresponds to a multidisciplinary (and international) collaboration between different groups having different specialties makes the work of interest to a more diverse readership."
The mother of 3 school-age children, Christine's favourite activity is to visit the library to share books with them.
"Platinum and palladium complexes of fluorenyl porphyrins as red phosphors for light-emitting devices" by Samuel Drouet, Christine O. Paul-Roth, Valeria Fattori, Massimo Cocchi and J. A. Gareth Williams, New J. Chem., 2011, 35, 438-444; DOI: 10.1039/C0NJ00561D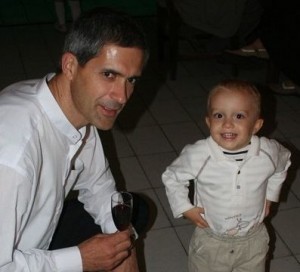 Lajos Kovács is a senior research fellow in the Department of Medicinal Chemistry, University of Szeged (Hungary). His latest contribution to NJC exemplifies the biological orientation of his chemistry research. The paper describes their investigation of 3-substituted xanthines as guanine analogues in self-assembly to yield tetrads or higher order structures in the presence of cations. "We have been pleased to see that our computational approach can be nicely complemented by experimental data (MS, NMR) supporting the existence of tetrameric and octameric aggregates involving 3-methylxanthine, the simplest representative of the above family." Their previous positive experience with NJC decided them on publishing again in the journal.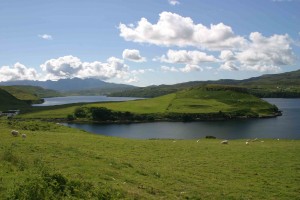 Lajos' non-scientific interests include reading, hiking and photography. Lajos notes that near Szeged there are not many places for hiking but that he takes pictures regularly when traveling. "One of my favourite places is Scotland and I send herewith a picture of mine from Isle of Skye in the Inner Hebrides."
"3-Substituted xanthines as promising candidates for quadruplex formation: computational, synthetic and analytical studies" by János Szolomájer, Gábor Paragi, Gyula Batta, Célia Fonseca Guerra, F. Matthias Bickelhaupt, Zoltán Kele, Petra Pádár, Zoltán Kupihár and Lajos Kovács, New J. Chem., 2011, 35, 476-482; DOI: 10.1039/C0NJ00612B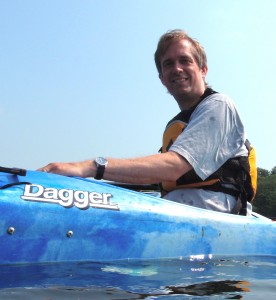 The last profile is of Canada Research Chair in Green Chemistry Philip Jessop, who is a Professor at Queen's University and the GreenCentre in Kingston (Ontario, Canada). As you might guess, his field is green chemistry and more specifically the chemistry of CO2 and H2 gases. "If H2 storage is ever going to work, I really believe it needs to be in liquid carriers, because liquids are pumpable and storable without pressure. But conventional liquid carriers of H2 don't carry much H2, so we have been exploring creative ways of solving that." On his reasons for publishing his work in NJC, Philip comments: "It's always nice to publish in the same forum as others in the same field."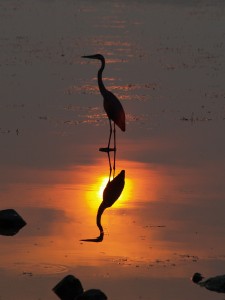 To take a break from his scientific life in the fast lane, Philip, who loves nature, stalks wildlife with his camera. "The most important thing in my mind is the perfect setting and pose. Getting this heron and the setting sun lined up perfectly, before my movements scared the heron away, was tricky."
"The effect of temperature, catalyst and sterics on the rate of N-heterocycle dehydrogenation for hydrogen storage" by Darrell Dean, Boyd Davis and Philip G. Jessop, New J. Chem., 2011, 35, 417-422; DOI: 10.1039/C0NJ00511H
I hope you've enjoyed getting to know some of your fellow chemists a little better. (It was certainly fun for me.) Clicking on the links above will lead you to their papers, which illustrate diverse fields of chemistry and their applications to the solution of a variety of problems.