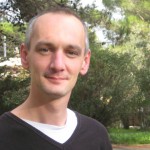 NJC is proud to be sponsoring ElecMol'10 – the 5th International Meeting on Molecular Electronics – taking    place in Grenoble (France) from 06 December 2010 to 10 December 2010.
On this special occasion, two young scientists will receive NJC Poster Prizes that reward creative and multidisciplinary research works in the chemical sciences.
If you are also attending ElecMol'10, feel free to come and meet Assistant Editor Laurent Vial, who will be happy to answer all your questions about NJC.
Dr. Laurent Vial, NJC Assistant Editor