In this NJC Letter, T. Don Tilley et al. report on the synthesis, structural characterization and reactivities of an unusual d-agostic iron complex containing an eta1-SiH interaction.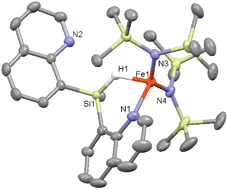 Highly positive comments from the reviewers and the editorial office make this Letter a Hot Article, FREE to access until October 21st. Why not read it now?
(MeQn2SiH)Fe[N(SiMe3)2]2 (Qn = 8-Quinolyl): An Unusual delta-Agostic Iron Complex Containing an eta1-SiH Interaction, Jian Yang, Meg Fasulo and T. Don Tilley, New J. Chem., 2010, Advance Article, DOI: 10.1039/C0NJ00554A, Letter
Let us know  your thoughts by leaving a comment below!