NJC was delighted to introduce a high-profile thematic issue on Biophosphates at the 18th International Conference on Phosphorus Chemistry (ICPC 2010) held in Wroclaw (Poland) this past July.
This themed issue, guest-edited by Barbara Nawrot and Jean-Pierre Majoral, deals with the large scientific area of biophosphates, lying at the interface of chemistry and biology. All contributions are a tribute to Professor Wojciech J. Stec's great scientific achievements, and a nice surprise gift on the occasion of his 70th birthday.
Prof. Stec was presented with the theme issue on the one-day symposium organized within the conference, comprising presentations by leading scientists including George M. Blackburn, Karol S. Bruzik, Marvin H. Caruthers, Charles McKenna, Gerald Zon, Jonathan P. Waltho who all joined in to express their appreciation of Prof. Stec's outstanding contribution to the fields of phosphorus and bioorganic chemistry. Colleagues and friends then met for a dinner reception to celebrate Prof. Stec's birthday in a relaxed and joyful atmosphere.
Why not have a look at the Biophosphates thematic issue, available online at: NJC 2010 Issue 5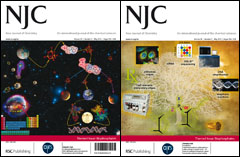 Take your pick amongst the 26 articles, including 7 reviews, on a variety of topics including the synthesis and mechanistic studies of nucleotides and oligonucleotides, enzymes and gene expression inhibitors, nucleic acid analogs with novel functionalities and potential therapeutics.