Outstanding paper – Materials Horizons
Bioinspired hierarchical composite design using machine learning: simulation, additive manufacturing, and experiment
Grace X. Gu, Chun-Teh Chen, Deon J. Richmond and Markus J. Buehler, Mater. Horiz., 2018, 5, 939–945, DOI: 10.1039/CiMH00653A
In this outstanding paper, the authors propose an innovative approach to design hierarchical materials using machine learning trained with a database of hundreds of thousands of structures from finite element analysis, together with a self-learning algorithm for discovering high-performing materials where inferior designs are phased out for superior candidates. They say that their new approach can aid in the discovery and fabrication of new material designs with an orders of magnitude increase in computational efficacy over conventional methods.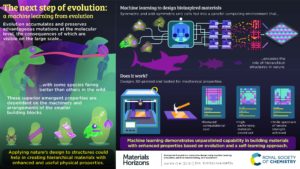 Runner-up – Materials Horizons
Unidirectional water delivery on a superhydrophilic surface with two-dimensional asymmetrical wettability barriers
Hui Geng, Haoyu Bai, Yangyang Fan, Shaoyu Wang, Teer Ba, Cunming Yu, Moyuan Cao and Lei Jiang, Mater. Horiz., 2018, 5, 303–308, DOI: 10.1039/C7MH01138E
In this outstanding paper, the authors demonstrate unidirectional liquid transport by incorporating asymmetric 2D water barriers into a flat superhydrophilic surface. Their method simplifies the design and fabrication of functional interface materials, enabling manipulation of fluid delivery on 2D patterned surfaces.