Novel butterfly-shaped organic semiconductor and single-walled carbon nanotube composites for high performance thermoelectric generators
An infographic showcasing the design of new butterfly-shaped organic semiconductors
This week, we are delighted to present our latest infographic highlighting fantastic work by Danqing Liu and Lei Wang et al. on a series of novel butterfly-shaped organic semiconductors by contorting the pentacenone/anthrone cores with steric substitutions! Learn more in the infographic below or get the full story from their Materials Horizons article.
This Communication was also featured in our Emerging Investigator series, find out more about this series here and check out the full interview with Danqing in this Editorial.
Novel butterfly-shaped organic semiconductor and single-walled carbon nanotube composites for high performance thermoelectric generators
Lai Wei, Hongfeng Huang, Chunmei Gao, Danqing Liu and Lei Wang
Mater. Horiz., 2021, 8, 1207-1215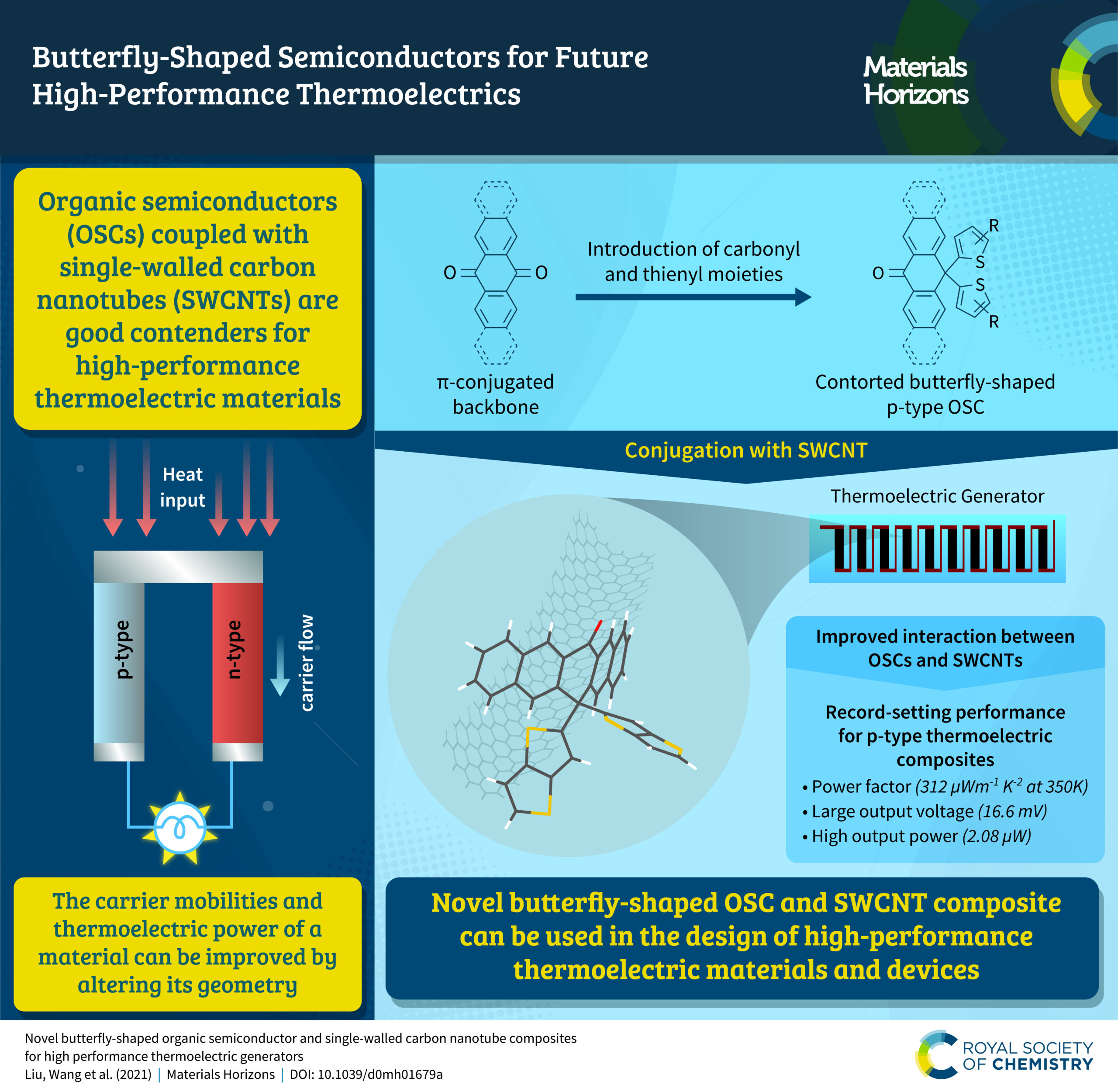 Meet the authors
Danqing Liu, Shenzen University, China

Danqing Liu received her BSc degree in 2010 from the University of Science and Technology of China, and earned her PhD degree in Chemistry at the Chinese University of Hong Kong in 2014. She joined Shenzhen University as an assistant professor in the College of Material Science and Engineering in 2015. Currently, her research group focuses on organic semiconductors and electronic devices, including organic/hybrid thermoelectrics and organic field effect transistors.

Don't forget to check out the Emerging Investigator series interview with Danqing in this Editorial.

Lei Wang, Shenzen University, China

Lei Wang conducted his MSc and PhD study in the Guangzhou Institute of Chemistry, Chinese Academy of Sciences, from 2001 to 2006. He then joined Shenzhen University and was promoted to full professor in 2011. Prof. Wang is currently the dean of College of Material Science and Engineering of Shenzhen University and the director of Shenzhen Key Laboratory of Polymer Science and Technology. His research interests include highly branched polymers, proton exchange membrane materials for fuel cells, conductive polymers, and organic thermoelectric materials.

Lai Wei, Shenzen University, China

Lei Wei received his MSc degree from East China Normal University in 2013, and obtained his PhD degree from Université Paris-Sud in 2018. He then completed Postdoctoral Fellowship in Shenzhen University from 2019–2020. He is now a senior scientist at BGI-Shenzhen. His research interests focus on organic semiconductor materials, natural product chemistry, and asymmetric organic catalysis.