Tough sheets of nanowires produced floating in the gas phase
An infographic highlighting a new universal route to produce continuous sheets of inorganic nanowires
We are pleased to share with you our latest infographic highlighting the excellent work by Juan J. Vilatela et al. on the synthesis of silicon nanowires directly assembled through their growth suspended in a gas stream, with textile-like properties and an order-of-magnitude higher toughness than monolithic analogues! Learn more in the infographic below or get the full story from their Materials Horizons article.
This Communication was also featured in our Emerging Investigator series, find out more about this series here and check out the full interview with Juan José in this Editorial.
Tough sheets of nanowires produced floating in the gas phase
Richard S. Schäufele, Miguel Vazquez-Pufleaua and Juan J. Vilatela
Mater. Horiz., 2020, 7, 2978-2984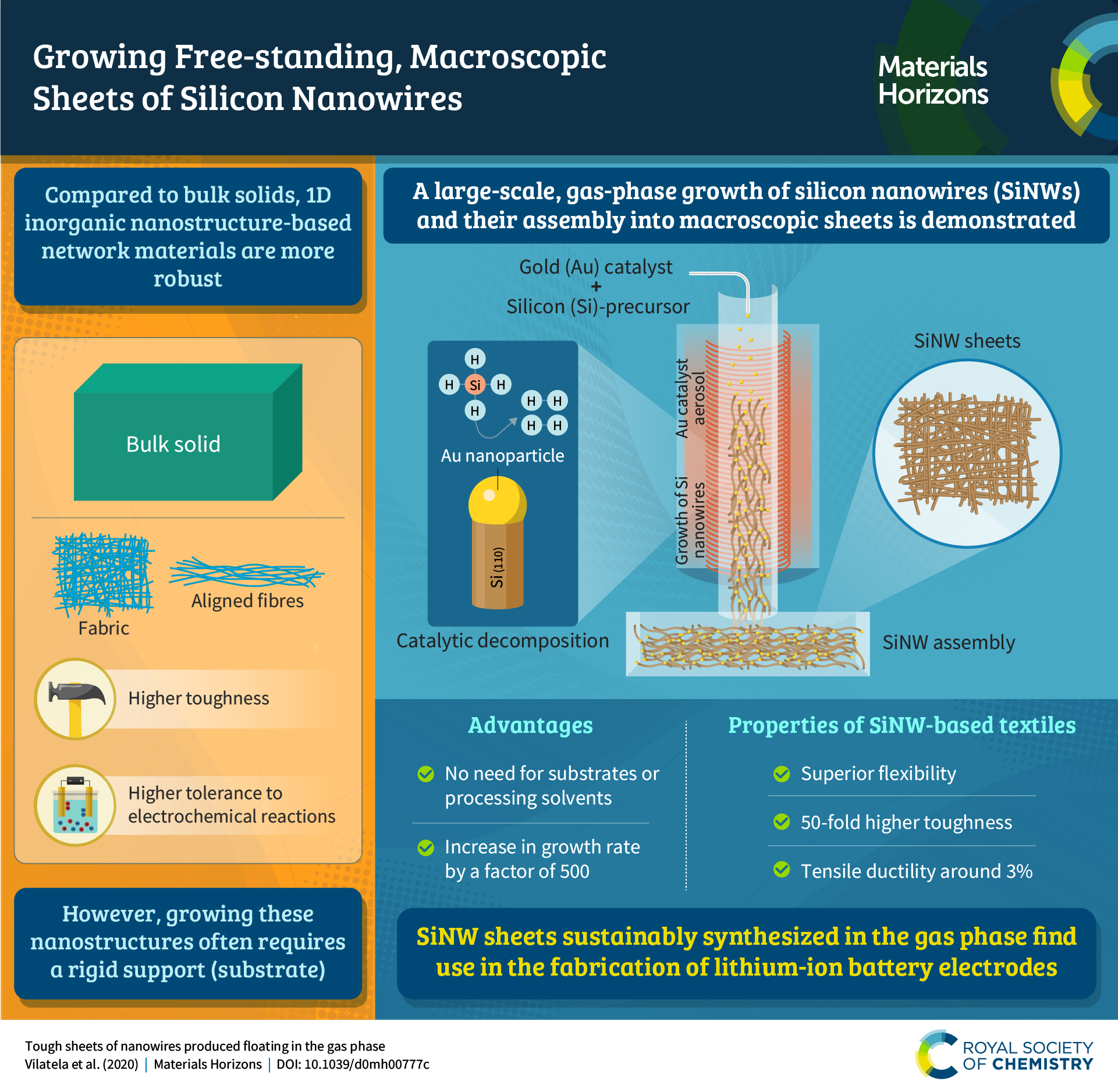 Meet the authors
Juan José Vilatela, IMDEA Materials, Spain

Juan José Vilatela has a PhD from the Department of Materials Science and Metallurgy of the University of Cambridge (2009). He leads a research group at IMDEA Materials, focused on the development of macroscopic materials made up of nanobuilding blocks in a way that the unique properties at the nanoscale are preserved through the assembly process and a new generation of high-performance engineering materials is produced. He has coordinated several academic and industrial research projects related to nanomaterials, including an ERC Starting Grant. He has been awarded the 2016 young investigator award by the European Society for Composite Materials and the 2018 "Miguel Catalán" under 40 investigator award by the Madrid Regional Government. In 2021 he co-founded Floatech, a spin-off company pursuing the industrialisation of a new sustainable process for the fabrication of Si anodes for the next generation of Lithium-ion batteries. Find the group on Twitter: @MNGMaterials

Don't forget to check out the Emerging Investigator series interview with Juan José in this Editorial.