You may have seen Gordon Wallace's recent Materials Horizons communication on liquid crystalline dispersions of graphene oxide. (If not, take a look here; it's free to access!) Here, we profile the author, and ask him about his experience with Materials Horizons.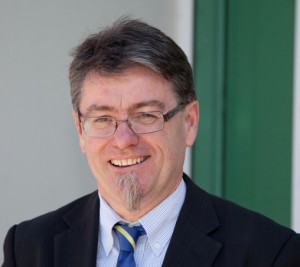 Professor Gordon Wallace is currently the Executive Research Director at the ARC Centre of Excellence for Electromaterials Science and Director of the Intelligent Polymer Research Institute. He previously held an ARC Federation Fellowship and currently holds an ARC Laureate Fellowship. Professor Wallace's research interests include organic conductors, nanomaterials and electrochemical probe methods of analysis, and the use of these in the development of Intelligent Polymer Systems. A current focus involves the use of these tools and materials in developing bio-communications from the molecular to skeletal domains in order to improve human performance via medical Bionics.
With more than 700 refereed publications, Professor Wallace has attracted some 17,000 citations and has a h-index of 61. He has supervised 77 PhD students to completion at the Intelligent Polymer Research Institute and currently co-supervisors 30 PhD students.
Professor Wallace is an elected Fellow at the Australian Academy of Science, the Australian Academy of Technological Sciences and Engineering, the Institute of Physics (UK) and the Royal Australian Chemical Institute. In addition to being named NSW Scientist of the Year in the chemistry category in 2008, Professor Wallace was also appointed to the Korean World Class University System, and received the Royal Australian Chemical Institute HG Smith Prize.
Why did you choose Materials Horizons to publish your exciting work?
I like the approach that combines education and digestible insights with the forefront of research. More and more I realise the critical need to communicate advances in knowledge emanating from the research laboratory to a broad cross section of our communities as effectively and efficiently as possible.
How did you find the Materials Horizons publication process?
The process was effective and efficient.
What topics would you like to see covered in future issues of Materials Horizons?
I think some coverage of advances in BioAFM would be most timely.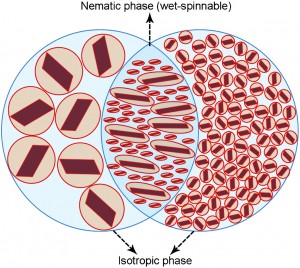 Formation and processability of liquid crystalline dispersions of graphene oxide
Rouhollah Jalili, Seyed Hamed Aboutalebi, Dorna Esrafilzadeh, Konstantin Konstantinov, Joselito M. Razal, Simon E. Moulton and Gordon G. Wallace
Mater. Horiz., 2014, Advance Article DOI: 10.1039/C3MH00050H
Manipulation of graphene oxide sheets to form liquid crystalline dispersions enabling fabrication of multifunctional 3D-structures.
Follow the latest journal news on Twitter @MaterHoriz or go to our Facebook page.