We are delighted to announce that Professor Mike Waring has joined the RSC Medicinal Chemistry Editorial Board as our newest Editor-in-Chief!
Mike said about joining as Editor-in-Chief: "RSC Medicinal Chemistry is one of the premier medicinal chemistry journals and we look forward to continuing to publish cutting edge science with the highest standards of rigour. I hope that the work published in the journal will lead to the continued dissemination and evolution of best practice in our discipline that will drive our ability to deliver new therapies more effectively."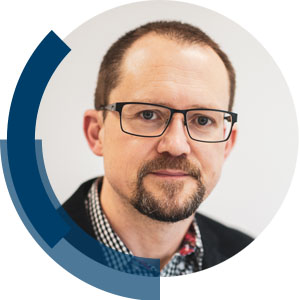 About Mike:
Mike Waring is Chair of Medicinal Chemistry at Newcastle University and Head of Chemistry for the Cancer Research UK Newcastle Drug Discovery Unit.  He was previously Principal Scientist in Medicinal Chemistry at AstraZeneca. He has worked mainly in the areas of diabetes and oncology and his work has contributed to the discovery of 14 drug candidates, including the marketed EGFR inhibitor osimertinib (Tagrisso™). He has made significant contributions to the field in many areas, perhaps most notably property-based optimisation, covalent inhibition, novel binding modes and new methods of hit generation.  He is a 2018 American Chemical Society Hero of Chemistry, recipient of the 2017 RSC Malcolm Campbell Medal, and an elected fellow of the Royal Society of Chemistry.
For more information, visit Mike's webpage, and check out some of his publications from the RSC below.
---
Microwave-assisted synthesis of 4-oxo-2-butenoic acids by aldol-condensation of glyoxylic acid
Mélanie Uguen, Conghao Gai, Lukas J. Sprenger, Hang Liu, Andrew G. Leach and Michael J. Waring
RSC Adv., 2021, 11, 30229-30236
Highly efficient on-DNA amide couplings promoted by micelle forming surfactants for the synthesis of DNA encoded libraries
James H. Hunter, Matthew J. Anderson, Isaline F. S. F. Castan, Jessica S. Graham, Catherine L. A. Salvini, Harriet A. Stanway-Gordon, James J. Crawford, Andrew Madin, Garry Pairaudeau and Michael J. Waring
Chem. Sci., 2021, 12, 9475-9484
The structure-guided discovery of osimertinib: the first U.S. FDA approved mutant selective inhibitor of EGFR T790M
Sam Butterworth, Darren A. E. Cross, M. Raymond V. Finlay, Richard A. Ward and Michael J. Waring
Med. Chem. Commun., 2017, 8, 820-822
Discovery of a series of 2-(pyridinyl)pyrimidines as potent antagonists of GPR40
Michael J. Waring, David J. Baker, Stuart N. L. Bennett, Alexander G. Dossetter, Mark Fenwick, Rob Garcia, Jennie Georgsson, Sam D. Groombridge, Susan Loxham, Philip A. MacFaul, Katie G. Maskill, David Morgan, Jenny Morrell, Helen Pointon, Graeme R. Robb, David M. Smith, Stephen Stokes and Gary Wilkinson
Med. Chem. Commun., 2015, 6, 1024-1029