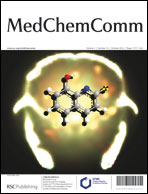 The interesting image on the front cover of this month's issue of MedChemComm is courtesy of Neil Vasdev and colleagues. Vasdev et al. present work which is aimed at developing a PET radiotracer based on a hydroxyquinoline chelator, and evaluates its potential for detecting amyloid plaques via imaging studies in transgenic rodent models.

Synthesis and PET imaging studies of [18F]2-fluoroquinolin-8-ol ([18F]CABS13) in transgenic mouse models of Alzheimer's disease
Neil Vasdev et al.
DOI: 10.1039/C2MD20075A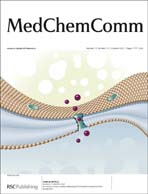 The inside cover highlights the HOT article of Andreea R. Schmitzer and co-workers who report the factors intrinsic to imidazolium salts that are responsible for the salts' ionophoric activity, allowing them to act as synthetic ion transporters.
An anion structure–activity relationship of imidazolium-based synthetic transporters
Claude-Rosny Elie, Mathieu Charbonneau and Andreea R. Schmitzer
DOI: 10.1039/C2MD20107K

Download both articles for free for the next 6 weeks.



Also in this issue is this HOT article from James S. Scott:

Reduction of acyl glucuronidation in a series of acidic 11β-hydroxysteroid dehydrogenase type 1 (11β-HSD1) inhibitors: the discovery of AZD6925