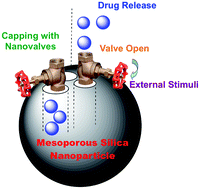 Biocompatible nanovalves can effectively store and protect drugs inside nano-reservoirs, then deliver and release them to kill targeted cancer cells under external stimuli. As such they are a promising example of smart materials that are devised to both address the controlled release of the therapeutics and selectively target diseased cells.
In this recent MedChemComm review article, Ying Wei Yang from Jilin University, Changchun (P.R China) provides a timely and comprehensive update on the recent progress of biocompatible nanovales based on mesoporous silica nanoparticles. The review highlights the cutting-edge progress in this field, with details of the nanovalves construction, therapeutic release mechanisms, while specifically focusing on the water-based systems for therapeutic applications.


Whether you are in the Medical, Materials or Chemistry field, this MedChemComm review is for you!
Free to access for the next 4 weeks.
Towards biocompatible nanovalves based on mesoporous silica nanoparticles Ying-Wei Yang
Med. Chem. Commun., 2011, Advance Article
DOI: 10.1039/C1MD00158B, Review