The Royal Society of Chemistry was present in Anaheim for the ACS Spring 2011 National Meeting and Exposition last March. Very hectic few days full of Journal celebrations, product demos and workshops.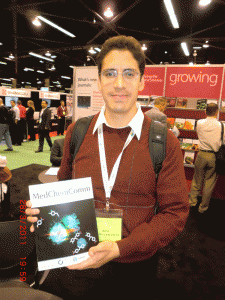 We were very happy to hear that one of our MedChemComm authors, Jose Medina Franco, paid the RSC booth a visit.
Here you can see him with a copy of MedChemComm Issue 1, where his article was published.
Thanks to Jose for dropping by! You can now read his article, which is free to access here.

Structure–activity relationships of benzimidazole derivatives as antiparasitic agents: Dual activity-difference (DAD) maps
Jaime Pérez-Villanueva, Radleigh Santos, Alicia Hernández-Campos, Marc A. Giulianotti, Rafael Castillo and Jose L. Medina-Franco
Med. Chem. Commun., 2011, 2, 44-49
DOI: 10.1039/C0MD00159G
If you want to find out where we are going this year and you want to come and meet us, like Jose did, we would love to hear from you. These are the list of conferences we are planning to go to:
Lakeland Heterocyclic meeting, May – Grasmere, UK
ACS National Organic Symposium – 5th – 9th June – Princeton, US
Frontiers in Medicinal Chemistry Meeting: Emerging Targets, Novel Candidates and Innovative Strategies- 19th-21st July – Stockholm, Sweden 
International Symposium on Macrocyclic and Supramolecular Chemistry (ISMSC) – 3rd-7th July, Brighton, UK
European Symposium on Organic Chemistry – 10th-15th July, Crete, Greece 
22nd International Symposium: Synthesis in Organic Chemistry – 11th-14th July, Cambridge, UK
OMCOS 16 – 24th-28th July – Shanghai, China
GRC Medicinal Chemistry – 7th – 12th August – New Hampshire, US
4th International Symposium on Advances in Synthetic and Medicinal Chemistry – 21st-25th August, St Petersburg, Russia 
242nd Meeting of the American Chemical Society- 27th – 31st August, Denver, US
16th RSC-SCI Medicinal Chemistry meeting – 11th-14th September, Cambridge, UK