The 14th "Pioneers of Miniaturization" Lectureship, sponsored by Dolomite and Lab on a Chip , is for early to mid-career scientists who have made extraordinary or outstanding contributions to the understanding or development of miniaturised systems.
The 2019 "Pioneers of Miniaturization" Lectureship will be presented to Professor Lu at the µTAS 2019 Conference in Basel, Switzerland, being held on 27-31 October 2019. Professor Lu will receive a certificate, a monetary award and will give a short lecture during the conference.
Many congratulations to Professor Hang Lu on this achievement from the Lab on a Chip Team!
About the Winner
Professor Hang Lu is the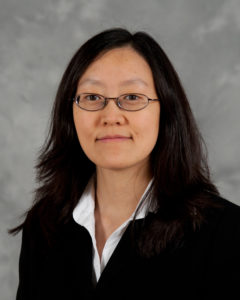 Love Family Professor, School of Chemical and Biomolecular Engineering, Georgia Institute of Technology, USA.
Professor Lu earned her PhD in Chemical Engineering from Massachusetts Institute of Technology, USA in 2003. After a postdoctoral fellowship with Professor Cornelia I. Bargmann, at University of California San Francisco and the Rockefeller University, she was appointed as an Assistant Professor at School of Chemical and Biomolecular Engineering, Georgia Institute of Technology.
In recognition of her outstanding achievements, Professor Lu has received numerous awards and international recognition, including being invited to join Board of Directors, Chemical and Biological Microsystems Society, invited to present at the Nobel Symposium on Microfluidics (2017) and the National Academy of Sciences' Kavli Frontiers of Science Symposia (2014, 2012, 2009), awarded the ACS Analytical Chemistry Young Innovator Award, Chemical and Biological Microsystems Society (2013), Council of Systems Biology in Boston (CSB2) Prize in Systems Biology (2011), a National Science Foundation CAREER award (2010), an Alfred P. Sloan Foundation Research Fellowship (2009), a DARPA Young Faculty Award (2007), a DuPont Young Professor Award (2006), the Saville Lectureship of Princeton University (2013), the H. C. Van Ness Award Lectures of Rensselaer Polytechnic Institute (2011), and is a fellow of the American Institute for Medical and Biological Engineering (AIMBE) and  a fellow of the American Association for the Advancement of Science (AAAS). She has authored more than 140 peer-reviewed publications and has served on the Editorial Board of Lab on a Chip as Associate Editor since 2017. She is currently the director of the Interdisciplinary Bioengineering Program, and the associate director of the NSF-Simons Foundation supported Southeast Center for Mathematics and Biology, Georgia Institute of Technology.
Professor Lu has pioneered the use of microfluidic systems for imaging and performing genetic studies with small organisms, primarily the nematode C. elegans. In a series of studies published since 2008 she established a set of technologies to streamline imaging, phenotyping, and sorting of C. elegans based on features that are difficult to distinguish and discern by human eyes. The throughput of these technologies were often 1,000 times that of conventional approaches. Professor Lu's technology has enable faster and more accurate experiments and revolutionized how genetic screens and high-content imaging experiments are done currently in other scientists' labs. In parallel, her lab has also engineered micro systems for high-content experiments with cells, aggregates, organoids, and embryos to extract high-dimensional information for systems biology studies.
The Lu group performs research at the interface of engineering and biology. They engineer automated microfluidic systems, microscopy tools, and image imformatic technologies to address questions in neuroscience, cell biology, and biotechnology that are difficult to answer using conventional techniques. Applied to the study of fundamental biological questions, these new techniques allow the Lu group to gather large-scale quantitative data about complex systems.