Lab on a Chip is delighted to share with you our Thematic Collection on personalised medicine-liquid biopsy.
This collection of papers and reviews focusses on the interface between the technological advancements and high impact applications of liquid biopsy technologies. This collection is collated by Thought Leaders Mehmet Toner and Stefanie Jeffrey and the Lab on a Chip Editorial Board and is introduced in an Editorial by the Thought Leaders on Liquid biopsy: a perspective for probing blood for cancer.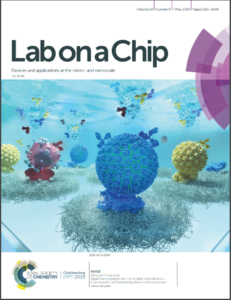 Read the full collection at: http://rsc.li/liquid-biopsy
Below is a selection of content highlights featured in the collection. In addition, all papers are free to read until 31st May*
Tutorial Review
Cancer diagnosis: from tumor to liquid biopsy and beyond
Ramanathan Vaidyanathan, Chwee Teck Lim, et al.
Critical Review
Circulating tumor DNA and liquid biopsy: opportunities, challenges, and recent advances in detection technologies
Lena Gorgannezhad, Nam-Trung Nguyen, Muhammad J. A. Shiddiky et al.
Paper
Dynamic CTC phenotypes in metastatic prostate cancer models visualized using magnetic ranking cytometry
Leyla Kermanshah, Shana O. Kelley et al.
Paper
An ultrasensitive test for profiling circulating tumor DNA using integrated comprehensive droplet digital detection
Chen-Yin Ou, Timothy J. Abram, Weian Zhao et al.
Paper
Cancer marker-free enrichment and direct mutation detection in rare cancer cells by combining multi-property isolation and microfluidic concentration
Soo Hyeon Kim, Teruo Fujii et al.
Paper
Urine-based liquid biopsy: non-invasive and sensitive AR-V7 detection in urinary EVs from patients with prostate cancer
Hyun-Kyung Woo, Hong Koo Ha, Yoon-Kyoung Cho et al.
Lab on a Chip is the leading journal publishing significant and original work related to miniaturisation, at the micro- and nano-scale, of interest to a multidisciplinary readership with an Journal Impact Factor of 5.995**. The journal is guided by Editor-in-Chief Abraham (Abe) Lee (University of California, Irvine) who is supported by our team of Associate Editors (Yoon-Kyoung Cho, Petra Dittrich, Hang Lu, Jianhua Qin, Manabu Tokeshi, Joel Voldman and Aaron Wheeler).
We hope you enjoy reading the papers within this Thematic Collection!
Keep up to date with Lab on a Chip throughout the year by signing up for free table of contents alerts and monthly e-newsletters.
Dolomite/Lab on a Chip Pioneers of Miniaturization Lectureship–deadline approaching-nominate a colleague now!
Organ-on a-chip systems- translating concept into practice thematic collection –Submit now
Organ-,body- and disease-on-a-chip thematic collection –Read now
Droplet-based single-cell sequencing– Read now