Lab on a Chip is delighted to share with you our Thematic Collection on droplet-based single-cell sequencing.
The droplet-based single-cell sequencing field is advancing very rapidly. Large numbers of studies are underway to collect and explore the new information that is now accessible with single-cell RNA-seq. Improvements to the microfluidics are also advancing rapidly. This collection of papers and reviews focusses on the between the technological advancements and high impact applications of droplet-based single-cell sequencing.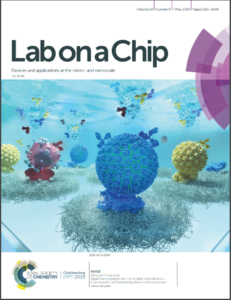 This topical and exciting collection is collated by Thought leader Dave Weitz and the Lab on a Chip Editorial Board. The collection is introduced in a perspective on single cell sequencing by the Thought leader Dave Weitz, and in two editorials, one on "InDrops and Drop-seq" by Allon Klein and Evan Macosko and one on "an engineer and business person's perspective" by businessman and engineer Mark Gilligan.
Read the full collection at: http://rsc.li/drop-sc-seq
Below is a selection of content highlights featured in the collection. In addition, all papers are free to read until 31st May*
Perspective
Droplet-based single cell RNAseq tools: a practical guide
Robert Salomon, David Gallego-Ortega, et al.
Critical Review
Finding a helix in a haystack: nucleic acid cytometry with droplet microfluidics
Iain C. Clark and Adam R. Abate
Paper
High throughput gene expression profiling of yeast colonies with microgel-culture Drop-seq
Leqian Liu, Adam R. Abate, et al.
Paper
Simplified Drop-seq workflow with minimized bead loss using a bead capture and processing microfluidic chip
Marjan Biočanin, Bart Deplancke, et al.
Lab on a Chip is the leading journal publishing significant and original work related to miniaturisation, at the micro- and nano-scale, of interest to a multidisciplinary readership with an Journal Impact Factor of 5.995**. The journal is guided by Editor-in-Chief Abraham (Abe) Lee (University of California, Irvine) who is supported by our team of Associate Editors (Yoon-Kyoung Cho, Petra Dittrich, Hang Lu, Jianhua Qin, Manabu Tokeshi, Joel Voldman and Aaron Wheeler).
We hope you enjoy reading the papers within this Thematic Collection and we welcome future submissions on droplet-based single-cell sequencing.
Dolomite/Lab on a Chip Pioneers of Miniaturization Lectureship–deadline approaching-nominate a colleague now!
Organ-on a-chip systems- translating concept into practice thematic collection –Submit now
Organ-,body- and disease-on-a-chip thematic collection –Read now
Personalised medicine:liquid biopsy–Read now