The Lab on a chip – from molecular assays to organs on a chip symposium will be held on 10th April 2018, Basel, Switzerland. 
The Royal Society of Chemistry journal Lab on a Chip and ETH Zurich are delighted to present this symposium, which will showcase the high impact research from the groups of the Lab on a Chip Editorial Board members. The research presented will be on a wide variety of cutting-edge topics in line with the ethos and scope of the journal.
Editor-in-Chief, Abe Lee, Associate Editor, Petra Dittrich and Executive Editor, Sam Keltie warmly invite you to take part in this event and look forward to welcoming you in Basel.
Final programme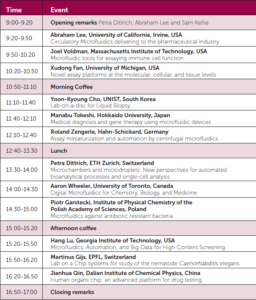 Aims
The symposium will bring together exceptional researchers – all leading names in their field – for an outstanding plenary programme, together with an open lunch for all attendees that will provide many networking opportunities.
Registration
Registration for the event is required, as we have limited spaces at the venue. Registration costs are students & graduate students 20 CHF, postdocs & group leaders: 40 CHF, industry 80 CHF.  Book now
Lunch and coffee
Lunch and coffee are provided and are included with registration.
Venue
Hotel Bildungszentrum 21, Missionsstr. 21, CH – 4055 Basel, Switzerland
Contact Information
Dr Sam Keltie
Executive Editor, Lab on a Chip
Royal Society of Chemistry