Every year, Lab on a Chip sponsors the Art in Science award, titled: "Under the Looking Glass: Art from the World of Small Science". This award, presented at the annual microfluidics conference MicroTas, aims to draw attention to the aesthetic value in scientific illustrations while still conveying scientific merit.
In 2013, the submissions were as fantastic as ever, so we must say a big well done to all of our contributors!
Have a look below at 2013's winner, and other highly commended pieces…
The Winner: "Artificial Life" by Ye Wang, Eindhoven University of Technology.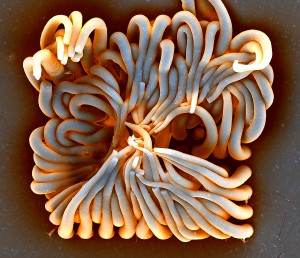 An SEM image of artificial cilia (microhairs) made with Polydimethylsiloxane and magnetic nanoparticles using a glass mold made by femtolaser modification and hydrofluoric acid etching.
---
Highly Commended: "Trapping Trapping" by Satoru Ito, Nagoya University.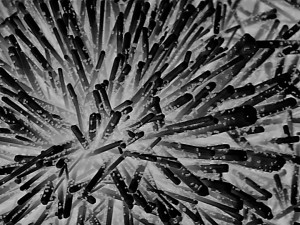 Fabricated ZnO nanowire (100 nm in diameter and 2-3 micrometer in length) trapping 100 nm beads by electrostatic interaction.
---
Highly Commended: "Nanoforest" by Sakon Rahong, Osaka University.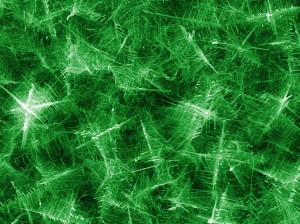 A colorised SEM micrograph showing Christmas-tree nano wires prepared by Vapour Liquid Solid (VLS) growth embedded in microchannel for fast DNA separation.
---
Highly Commended: "Van Gogh's Wall Paper" by You-Ren Hsu, Institute of NanoEngineering and MicroSystems, NTHU.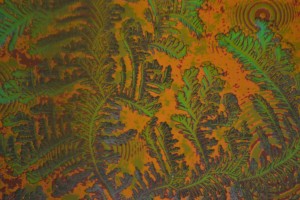 Salt crystallization on a gold coated photonic crystal substrate. The salt crystallization changed the index of refraction on the surface, making the color tone.