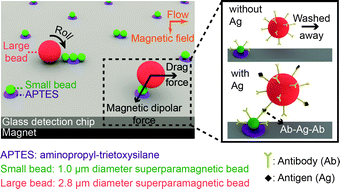 Issue 11's significant front cover article from Ikuro Suzuki et al. at Tokyo University of Technology, Japan, describes the development of a new 3D etching method. An infrared laser allows tight control over the area of cell adhesion, selecting cell number and cell type, as a small area of the collagen gel substrate can be targeted. The researchers can guide neural network formation using this tool. 3D networks are created upon which neurons survived longer than on 2D substrates.
Control of neural network patterning using collagen gel photothermal etching
Aoi Odawara, Masao Gotoh and Ikuro Suzuki 
DOI: 10.1039/C3LC00036B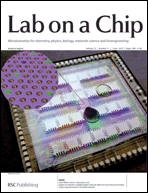 Work from Jeoren Lammertyn et al. is featured on the inside front cover. The team from University of Leuven, Belgium, use digital microfluidics to facilitate single-molecule detection for the first time. They are able to print and seal thousands of femtolitre droplets in microwells in each step. Single paramagnetic beads can be loaded into the microwells with high capacity.
Digital microfluidics-enabled single-molecule detection by printing and sealing single magnetic beads in femtoliter droplets
Daan Witters, Karel Knez, Frederik Ceyssens, Robert Puers and Jeroen Lammertyn  
DOI: 10.1039/C3LC50119A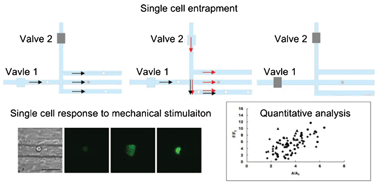 A Frontier article from Aydogan Ozcan et al. at University of California, Los Angeles, USA, discusses progress in computational lens-free microscopy on-chip and how such technology is taking over conventional bulky optical microscopes. This article, which is also featured on the back cover, includes a discussion of the applications this new technology opens up.
Toward giga-pixel nanoscopy on a chip: a computational wide-field look at the nano-scale without the use of lenses
Euan McLeod, Wei Luo, Onur Mudanyali, Alon Greenbaum and Aydogan Ozcan
DOI: 10.1039/ c3lc50222h
For more critical reviews, HOT primary research as recommended by referees and Technical Innovations, take a look at the full issue now