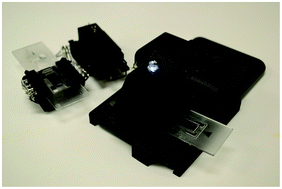 A team from Caltech and MIT, USA, and LeukoDx, Israel, have combined a microflow cytometer and fluorescent dye to produce a portable suitcase-sized point-of-care test for leukocyte count – one of the most common clinical tests. The test can identify four different types of leukocyte using only a small blood sample.
This article was featured on the bright cover of Issue 7!
Four-part leukocyte differential count based on sheathless microflow cytometer and fluorescent dye assay
Wendian Shi, Luke Guo, Harvey Kasdan and Yu-Chong Tai 
DOI: 10.1039/C3LC41059E
---

A technical innovation from Oliver Hayden and Michael Helou et al. in Germany featured on the outside front cover of Issue 6 also concentrates on flow cytometry for point-of-care testing. This vastly different technique uses magnetophoresis instead of fluorescence to detect specific cancer cells in whole blood. Cell diameters are measured from time of flight information. The device integrates sample preparation for ease of point-of-care applications. The can perform cell enrichment, cell focusing and background elimination in situ.
Time-of-flight magnetic flow cytometry in whole blood with integrated sample preparation
Michael Helou, Mathias Reisbeck, Sandro F. Tedde, Lukas Richter, Ludwig Bär, Jacobus J. Bosch, Roland H. Stauber, Eckhard Quandt and Oliver Hayden  
DOI: 10.1039/C3LC41310A
Remember all of our HOT articles are made free to access for 4 weeks*!
 *Free access to individuals is provided through an RSC Publishing personal account. Registration is quick, free and simple