We  begin the year interviewing Ásta Heiðrún E. Pétursdóttir, a post-doc at Matís (Iceland) who recently finished her PhD in Aberdeen under the supervision of Jörg Feldmann.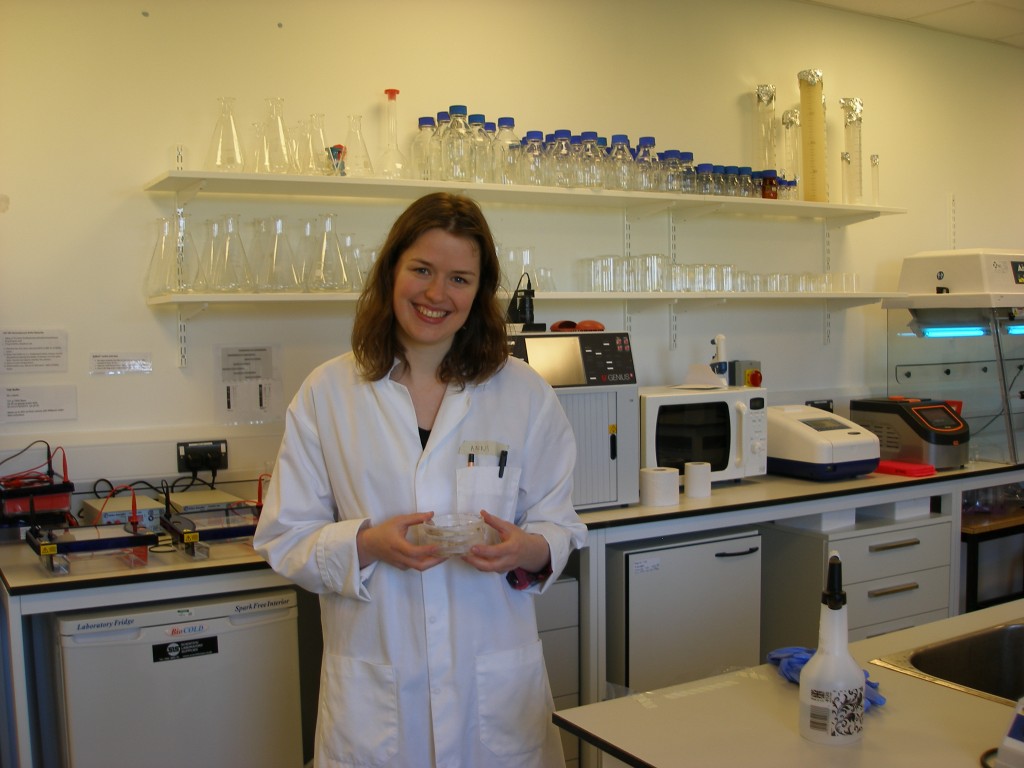 Ásta in her former lab in Aberdeen
Who or what inspired you to become a scientist?
I always enjoyed the Science subjects in school and college, so I decided to study Mathematics and Chemistry at University. After a couple of years I switched completely to Chemistry; we got to wear cool lab coats, safety goggles and do crazy science experiments in the lab.
Why did you choose your research group/University and what factors influenced your choice?
My MSc (University of Iceland) was based on arsenic and arsenic speciation and mainly took place at Matís, Iceland, which is a dynamic R&D company that among other things aims at ensuring safety and quality of food products. This suited well my research interests. I decided to go abroad for an exchange year via the ERASMUS program, to take courses and get in depth expert guidance in a research group intensively involved in speciation, which was then a new field in my group in Iceland. My supervisor at the time mentioned a few research groups doing arsenic speciation and of those Scotland sounded like a nice place. Rain, wind, mountains and sheep. So just like home.
A few months in I decided to stay and do a PhD in the group (TESLA group at the University of Aberdeen). I have to admit at that point I wasn't sure if I wanted to do arsenic speciation for 3 more years, if I'd want to live in such a grey city, nor even if I wanted to stay abroad for so long. But the speciation grew on me and now I think it is fascinating, I like the city, I made amazing friends and I couldn't have wished for a better supervisor. I see now that this was a pretty good decision. I finished my PhD this summer and I'm currently back in the research group in Iceland where the whole process started off, but now as a PostDoc, so I've come a circle. It was a good experience to go abroad for my studies, but it's also great to be back in my old research group.
Can you explain a bit the purpose of your current research activities?
In my PhD I focused mainly on the speciation of inorganic arsenic, because of its toxicity and potential upcoming legislation on inorganic arsenic in food (e.g. rice) in Europe. I was interested in seeing what affected the determination of inorganic arsenic; the extraction? The instrumental method? None of the above? I did some method development and published a few papers on this. I also looked into lipid-soluble arsenic. It's been an under researched area but is gaining more attention now. The arsenolipids are of interest since there are still so many unanswered questions regarding them. At the University of Aberdeen I had fantastic opportunities to study this, as there is extensive knowledge present within the group on this subject matter and unique combination of instrumentation facilitating easier determination of the arsenolipids. At the moment I'm continuing my work on inorganic arsenic, but would like to get back to the arsenolipids in the near future.
How is a typical day in your lab?
When I'm in the lab most time goes into sample preparation, analysis or method development. I've also been supervising students which I find enjoyable. I do spend a considerable time outside of the lab, working on data treatment, writing papers or grant proposals.
What common activities are organized in your research group?
In my current workplace we have regular division meetings where we discuss the recent developments within the group. We also have several social events planned each year, such as the recent Christmas dinner and in the autumn the whole company went on a staff trip, visiting interesting companies and we ended the day in the Blue Lagoon, a geo-thermal Lagoon/Spa – a great day out.
What app/programs do you typically use?
I mostly use Office (Word, Excel, Powerpoint etc), I also use statistical software such as SigmaStat, integration software (Origin) and instrumental ones such as Chemstation, Masshunter or Xcalibur.
How do you search for scientific information? How do you manage your bibliography?
I tend to use Web of Science for my research. Sometimes Scopus. I've been using Endnote to manage my bibliography.
What are your views on JAAS? Which type of articles do you prefer? Do you miss some content?
I haven't published anything in JAAS so far, but I'm sure I will submit a manuscript there. It is one of the go to journals for ICP-MS work and many of the articles I read have been published in JAAS.
What do you like and dislike the most about your work?
I think most scientists agree that science can be very frustrating at times when nothing seems to work. Then as soon as things start working you forget all about that.
What I like is the diversity of my days, where I'm sometimes working hard in the lab and at others I'm thinking of new ideas for research projects. I also enjoy writing papers and the idea of getting my research across to other scientists.  I think my work is challenging and great for engaging with other people.
What do you expect to be doing in 5 years time?
I hope to be able to continue in my line of work and I would like to still work on my own research. I would be happy to be here at Matís in Iceland, the research facilities have grown recently with new instrumentation and I would like to familiarize myself with them with the prospect of using them for my work. I believe I would enjoy to manage different projects and supervise students.
What do you enjoy doing when you are not in the lab?
In my free time I hang out with family and friends, often trying to convince people to play board games with me. I play the clarinet and the piano as well. I also like to go climbing (bouldering) every now and then. Now that I have moved back to Iceland I try to the nice warm swimming pools as often as I can. They are lovely.
Thanks a lot, Ásta, and all the best for 2015!