In honour of the 30th anniversary year of JAAS, a special collection is now published to celebrate this significant milestone.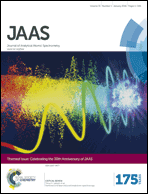 Guest Edited by Frank Vanhaecke, Detlef Günther, Gary Hieftje, Joe Caruso, Barry Sharp and Les Ebdon, this collection of papers celebrates the 30th anniversary of JAAS with topics spanning the breadth of analytical atomic spectrometry.
Make sure you read the special editorials:
JAAS – 30 years of manuscripts, citations, and scientific impact
JAAS Emerging Investigator Lectureship
Current trends: a perspective from 30 years of Atomic Spectrometry Updates
We hope you enjoy reading the collection!