We are delighted to announce the latest Impact Factor for JAAS is 3.379 according to the 2015 Journal Citation Reports ®.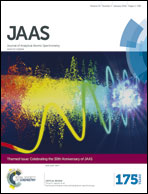 We would like to thank all of our authors, referees, Editorial and Advisory Board members for their contributions to the success of JAAS.
Submit your best work to JAAS today.
*The Impact Factor provides an indication of the average number of citations per paper. Produced annually, Impact Factors are calculated by dividing the number of citations in a year by the number of citeable articles published in the preceding two years. Data based on 2015 Journal Citation Reports®, (Thomson Reuters, 2016).