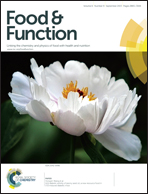 The front cover of issue 9 features artwork by Hongxin Wang from Jiangnan University. With his colleagues Wang investigates the components of a new resource food in China, peony seed oil (PSO) by GC-MS (gas chromatography–mass spectrometry), its inhibitory effects on carbohydrate hydrolyzing enzymes in vitro and its anti-diabetic effects on mice induced by streptozotocin (STZ).
Interested to find out more? Read the full article below – its free to access for the next 6 weeks!
Jianhui Su, Hongxin Wang, Caoyang Ma, Zaixiang Lou, Chengxiang Liu, MdRamim Tanver Rahman, Chuanzhong Gao and Rongjing Nie
Food Funct., 2015, 6, 2930-2938
DOI: 10.1039/C5FO00507H
---
Keep up-to-date with the latest content in Food & Function by
registering
for our free table of contents alerts.