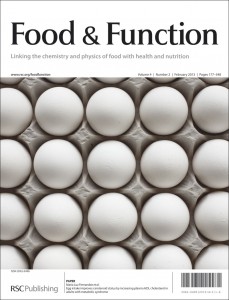 Issue 2 of Food & Function is now online and the cover highlights a paper by Maria Luz Fernandez and co-workers from the University of Connecticut, USA. 
Egg intake improves carotenoid status by increasing plasma HDL cholesterol in adults with metabolic syndrome
Christopher N. Blesso, Catherine J. Andersen, Bradley W. Bolling and Maria Luz Fernandez 
In their study daily intake of 3 whole eggs for 12 weeks, as part of a carbohydrate restricted dietary intervention for weight loss, increased both plasma and lipoprotein lutein and zeaxanthin, two sister carotenoids found in egg yolk. They demonstrate that egg yolk may represent an important food source to improve plasma carotenoid status in a population at high risk for cardiovascular disease and type 2 diabetes.
Read the article online, free for 6 weeks!
Stay up to date with the latest developments from Food & Function by signing up for free table of contents alerts.