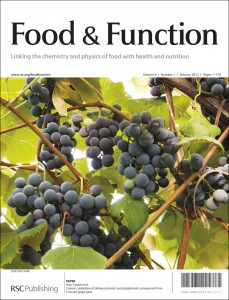 We are delighted to announce that Food & Function's first full impact factor* is 2.7.
This fantastic achievement in Food & Function's fourth year of publication is a reflection of the high quality of the published content and the visibility it has received in the Journal – this would not have been possible without the contribution of all our authors, referees, readers and Editorial & Advisory Board members.  Thank you, we are very grateful for your support.
Professor Gary Williamson, Chair of the Food & Function Editorial Board said "I am delighted with the news of Food & Function's impact factor; so soon after launch to have such a competitive impact factor is a great achievement demonstrating the quality of the Journal, which we will continue to work hard to maintain". Having launched in October 2010 Food & Function's impact factor of 2.7 is particularly notable as it is not based on two full years of publication, it is based on one full year in 2011 plus just three issues from the end of 2010.
Food & Function provides a unique venue to publish work at the interface of the chemistry, physics and biology of food.  We invite you to submit your latest research.
Keep up-to-date with the latest content in Food & Function by registering for our free table of contents alerts.
Read more about the 2012 Impact Factors on the RSC Publishing Blog.
*The Impact Factor provides an indication of the average number of citations per paper. Produced annually, Impact Factors are calculated by dividing the number of citations in a year by the number of citeable articles published in the preceding two years. Data based on 2012 Journal Citation Reports®, (Thomson Reuters, 2013).