Food & Function issue 9 is a themed issue on Cocoa Coffee and Tea.  It contains selected contributions from The First International Congress on Cocoa Coffee and Tea 2011 (CoCoTea2011). The Guest Editors Vincenzo Fogliano and Marco Arlorio introduce the themed issue in their Editorial which you can read here.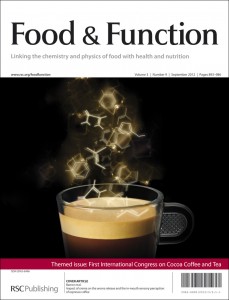 Read the full themed issue on CoCoa Coffee and Tea here.
The front cover features a paper from Denis Barron and co-workers at Nestlé Research Center and Nestlé Nespresso in Lausanne, Switzerland.  In their paper a series of six espresso coffees with different foam characteristics was produced by varying two preparation parameters, the extraction pressure and the filtration of the coffee beverage. The coffees were comparatively evaluated by a set of analytical and sensory techniques.  The influence of the crema properties on aroma release are very complex, however, overall the presence of crema favoured the release of pleasant high volatiles. For more information read the full article here free for 6 weeks.
Impact of crema on the aroma release and the in-mouth sensory perception of espresso coffee, D. Barron, N. Pineau, W. Matthey-Doret, S. Ali, J. Sudre, J. C. Germain, E. Kolodziejczyk, P. Pollien, D. Labbe, C. Jarisch, V. Dugas, C. Hartmann and B. Folmer, Food Funct., 2012, 3, 923-930
You can keep up to date with the latest developments from Food & Function by signing up for free table of contents alerts and monthly e-newsletters.