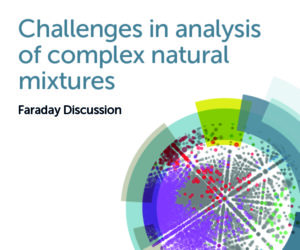 It's tricky to analyse mixtures that don't easily separate into their constituent parts. But it's important to do so to look at pollutants in soil, the components of food or biological metabolites.
So we're bringing together experts from across a range of specialities to discuss this fascinating field. From chromatographers to spectroscopists and those whose focus is on a particular biological metabolite or environmental mixture, researchers from around the world will be in Edinburgh next May to discuss Challenges in analysis of complex natural mixtures.
Topics for discussion include the latest mass spectrometry and chromatography techniques, high-resolution techniques, data mining and visualisation, and chemometrics.
So how can you get involved?
Submit an oral abstract by 27 August for a chance to join
– Philippe Schmitt-Kopplin (Helmholtz Zentrum München/Technical University Munich)
– Chris Reddy (Woods Hole Oceanographic Institution)
– Lutgarde Buydens (Radboud University)
– André J. Simpson (University of Toronto)
– Dan Stærk (University of Copenhagen)
and many more!