Books in the RSC Energy and Environment Series provide up-to-date and critical perspectives reflecting the wealth of chemical ideas and concepts that have the potential to make an important impact in mankind's search for a sustainable energy future. Books in the Series have covered energy crops, photoelectron chemical water splitting, solid oxide fuel cells and biomass conversion.
Spanning a broad range of research interests and experiences in this field, the international Series Board comprises:
Laurie Peter, University of Bath, UK, Editor-in-Chief
Heinz Frei, Lawrence Berkeley National Laboratory, USA, Series Editor
Roberto Rinaldi, Max Planck Institute for Coal Research, Germany, Series Editor
Tim S. Zhao, The Hong Kong University of Science and Technology, Hong Kong, Series Editor
Recent publications:
Materials Challenges: Inorganic Photovoltaic Solar Energy, edited by Stuart J C Irvine – an authoritative reference on the various aspects of materials science that will impact the next generation of photovoltaic module technology.
Catalytic Hydrogenation for Biomass Valorization, edited by Roberto Rinaldi – as the biorefinery industry expands to meet the latest discoveries in biomass conversion, this book provides a thorough grounding in the subject.
Advanced Concepts in Photovoltaics, edited by Arthur J. Nozik, Gavin Conibeer, Matthew C Beard – describing the diverse range of materials and fabrication methods now available to take photovoltaic systems into the third generation.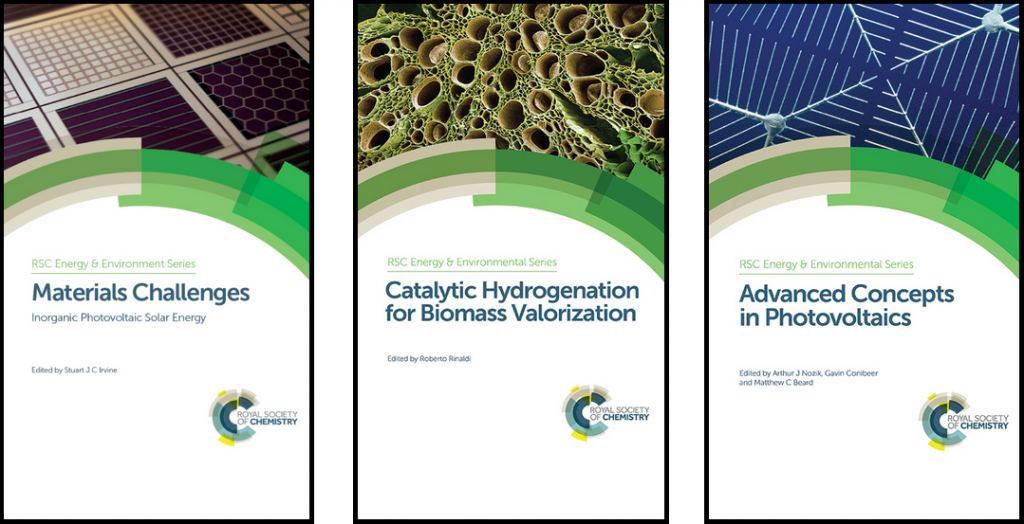 Titles you may have missed:
Solar Energy Conversion, edited by Piotr Piotrowiak – a state-of-the art review on experimental and theoretical approaches to the study of interfacial electron and excitation transfer processes which are so crucial to solar energy conversion.
Biological Conversion of Biomass for Fuels and Chemicals, edited by Jianzhong Sun, Shi-You Ding, Joy D Peterson – covers biomass modification to facilitate the industrial degradation processing and and new technologies for the conversion of lignocelluloses into biofuels and other products.
Solid Oxide Fuel Cells, edited by Meng Ni, Tim S. Zhao – an overview of the SOFC technology with a focus on the recent developments in new technologies and new ideas for addressing the key issues of SOFC development.
You can now keep up-to-date with the latest books published from the Royal Society of Chemistry with our eBook Table of Content Email Alerts. Sign up today by selecting RSC eBook Collection in the Book Alerts section on the Email Alerts Service Form.