Announcing new energy-focused additions to the RSC Desktop Seminar Lectureship Series
The RSC is proud to recognise exceptional scientists through our series of journal lectureships. Typically, our winners are given the opportunity to present their award-winning work at international conferences or meetings, which has not been possible this year due to the disruption to in-person events caused by the global pandemic.
As a result, we are currently running the inaugural RSC Desktop Seminar Lectureship Series, featuring free online talks by our recent journal lectureship award recipients. RSC Desktop Seminar Lectureships provide an exciting opportunity for exceptional scientists to share their award-winning research virtually and for you to ask questions. Each session will feature talks from a journal board member and the journal lectureship award recipient, spanning many topic areas and regions around the world. Further information about all sessions will be available at rsc.li/lectureship-series
Upcoming energy-focused Desktop Seminar Lectureships: Hosted by EES, Journal of Materials Chemistry, PCCP and Chemical Society Reviews
Save the dates and join us for these FREE virtual events: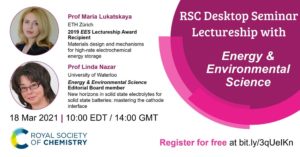 18 March, 14:00 GMT / 10:00 EDT
Journal of Materials Chemistry 2019 Lectureship seminar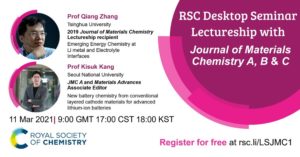 11 March, 9:00 GMT / 17:00 CST / 18:00 KST
23 March, 10:00 GMT / 11:00 CET
EES 2020 Lectureship seminars:
Professor Joseph Hupp 
Northwestern University, USA
EES Editorial Board Chair
Professor Yana Vaynzof
Technical University of Dresden, Germany
Joint 2020 EES Lectureship award recipient
Reproducibility in Perovskite Photovoltaics
Professor Kyung Byung Yoon
Sogang University, South Korea
EES Advisory Board member
Professor Wooyul Kim
Sookmyung Women's University, South Korea
Joint 2020 EES Lectureship award recipient
Time-resolved attenuated total reflection surface-enhanced infrared absorption spectroscopy (ATR-SERIAS) as a powerful tool in electrocatalysis: What is happening at the interface in real-time?
Other upcoming Energy-focused RSC Desktop Seminar Lectureships:

Journal of Materials Chemistry 2020 Lectureship seminar:
25 March, 9:00 EDT / 13:00 GMT / 14:00 CET
Professor Yana Vaynzof
Technical University of Dresden, Germany
JMC C and Materials Advances Associate Editor
Small Grains as Recombination Hot Spots in Perovskite Solar Cells
Professor Giulia Grancini
University of Pavia, Italy
2020 Journal of Materials Chemistry Lectureship award recipient
Engineering Low-Dimensional Perovskite Interfaces for State of the art Perovskite Solar Cells: interface structure and processes therein
ChemSocRev 2020 Pioneering Investigator Lectureship seminar:
21 April, 14:00 CDT / 12:00 PDT / 20:00 GMT
Professor Shirley Meng
University of California San Diego, USA
Advisory Board member, Chemical Society Reviews
Dr Jun Lu
Argonne National Laboratory, USA
2020 ChemSocRev Pioneering Investigator Lectureship award recipient
Please visit rsc.li/lectureship-series for the latest updates and registration links. If you think these events would interest someone you know, please do share this message. We hope you can join us at an upcoming event, and in the event that you are interested in these seminars but cannot make the date, register online before the scheduled event and you will be sent a link to the recording afterwards.