We are delighted to announce that the 2020 EES Lectureship has been jointly awarded to Professor Yana Vaynzof and Dr Wooyul Kim!
Established in 2019, the Lectureship recognises and supports those at an early stage of their independent career within the fields of energy and environmental sciences, and is a platform for early career researchers to showcase their research to the wider scientific community.
The recipients will each receive a £500 honorarium, will be given the opportunity to attend and present their research at a leading international online conference, and will be invited to contribute a Review-type article to EES.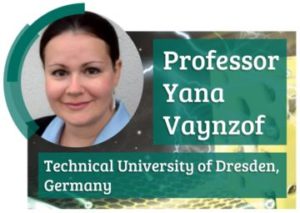 Yana is an Associate Professor at the Technical University of Dresden, Germany. Since 2019, she has been the Chair for Emerging Electronic Technologies at the Center for Advancing Electronics Dresden, and the Integrated Center for Applied Physics and Photonic Materials. She received her PhD from the University of Cambridge, UK in 2011, and was previously a junior professor at the University of Heidelberg, Germany (2014-2018).
Her research interests focus on emerging photovoltaics based on organic, colloidal quantum dot and perovskite materials. Her work aims to address the challenges of stability and reproducibility of emerging photovoltaic devices by identifying the causes and developing strategies for the mitigation of these challenges. To achieve this, Yana not only utilizes a broad range of experimental methods, but also develops new spectroscopic techniques and methodologies for the study of material physics of novel semiconductors.
Find out more about her research on her website https://cfaed.tu-dresden.de/cfeet-about and on twitter: @vaynzof
She was the only female recipient of an ERC Starting Grant in the panel PE3 Condensed Matter Physics in 2016, and was also the recipient of the 2018 Walter Kalkhof-Rose Memorial Award for outstanding young researchers in the natural sciences as well as the Fulbright-Cottrell Award for innovation in research and teaching.
Read her latest work in Royal Society of Chemistry journals:
Fractional deviations in precursor stoichiometry dictate the properties, performance and stability of perovskite photovoltaic devices
Paul Fassl, Vincent Lami, Alexandra Bausch, Zhiping Wang, Matthew T. Klug, Henry J. Snaith and Yana Vaynzof*
Energy Environ. Sci., 2018, 11, 3380-3391. DOI: 10.1039/C8EE01136B
Thermally evaporated methylammonium-free perovskite solar cells
Ran Ji, Zongbao Zhang, Changsoon Cho, Qingzhi An, Fabian Paulus, Martin Kroll, Markus Löffler, Frederik Nehm, Bernd Rellinghaus, Karl Leo* and Yana Vaynzof*
J. Mater. Chem. C, 2020,8, 7725-7733 DOI: https://doi.org/10.1039/D0TC01550D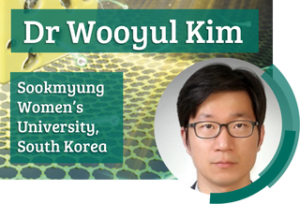 Wooyul has been an Assistant Professor at Sookmyung Women's University, South Korea, working in the Department of Chemical and Biological Engineering since 2016. He received his PhD from Pohang University of Science and Technology (POSTECH) in 2012, and went on to carry out postdoctoral research at Lawrence Berkley National Laboratory, USA (2012-2016).
His recent research focuses on using time-resolved operando spectroscopy to investigate photo- (and electro-) catalytic mechanisms, including revealing key reaction intermediates, analysing samples used for water reduction and oxidation, and gaining a microscopic perspective of electrode surfaces in photoelectrochemical cells.
Find out more on his website http://sealab.or.kr/
Read his latest work in Energy & Environmental Science:
HOT article: Time-resolved observation of C–C coupling intermediates on Cu electrodes for selective electrochemical CO2 reduction
Younghye Kim,‡   Sojung Park, Seung-Jae Shin, Woong Choi, Byoung Koun Min, Hyungjun Kim, Wooyul Kim* and Yun Jeong Hwang*
Energy Environ. Sci., 2020, 13, 4301-4311. DOI: 10.1039/D0EE01690J
A highly active, robust photocatalyst heterogenized in discrete cages of metal–organic polyhedra for CO2 reduction
Featured on the inside front cover of the journal
Hyeon Shin Lee, Seohyeon Jee, Raekyung Kim, Hoang-Tran Bui, Bupmo Kim, Jung-Keun Kim, Kyo Sung Park, Wonyong Choi, Wooyul Kim* and Kyung Min Choi*
Energy Environ. Sci., 2020, 13, 519-526. DOI: 10.1039/C9EE02619C
******************************************************************************
To celebrate, we have put together collections of Yana and Wooyul's publications in Royal Society of Chemistry journals: