We are delighted to introduce Professor Jens Nørskov as Energy & Environmental Science's new Editorial Board Member.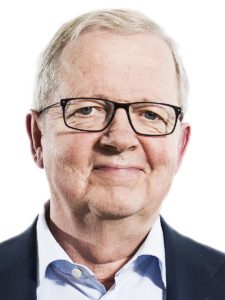 Jens Nørskov is a Villum Kann Rasmussen Professor at Technical University of Denmark. He earned his PhD in theoretical physics from Aarhus University in Denmark in 1979, and is well known for his work on the theoretical description of surfaces, catalysis, materials and nanostructures.
Nørskov's research aims at developing theoretical methods and concepts to understand and predict properties of materials. The aim is to understand which surface properties determine their chemical activity and to use that insight, in combination with large-scale computations, to design new catalytic surfaces and nano-structures. Applications are primarily in energy transformations, including (photo-) electrochemical water splitting, CO2 reduction, nitrogen reduction and syngas reactions.
Submit your best energy and environmental science research today.
Find out more about Jens here or read his recent research:
Recent Papers
Rapid flame doping of Co to WS2 for efficient hydrogen evolution
Xinjian Shi, Meredith Fields, Joonsuk Park, Joshua M. McEnaney, Hongping Yan, Yirui Zhang, Charlie Tsai, Thomas F. Jaramillo, Robert Sinclair, Jens K. Nørskov and Xiaolin Zheng
Energy Environ. Sci., 2018,11, 2270-2277. DOI: 10.1039/C8EE01111G

Ammonia synthesis from N2 and H2O using a lithium cycling electrification strategy at atmospheric pressure
Joshua M. McEnaney, Aayush R. Singh, Jay A. Schwalbe, Jakob Kibsgaard, John C. Lin, Matteo Cargnello, Thomas F. Jaramillo and Jens K. Nørskov
Energy Environ. Sci., 2017,10, 1621-1630. DOI: 10.1039/C7EE01126A
To keep up to date the latest energy and environmental research and other journal news, sign up to the e-alerts.